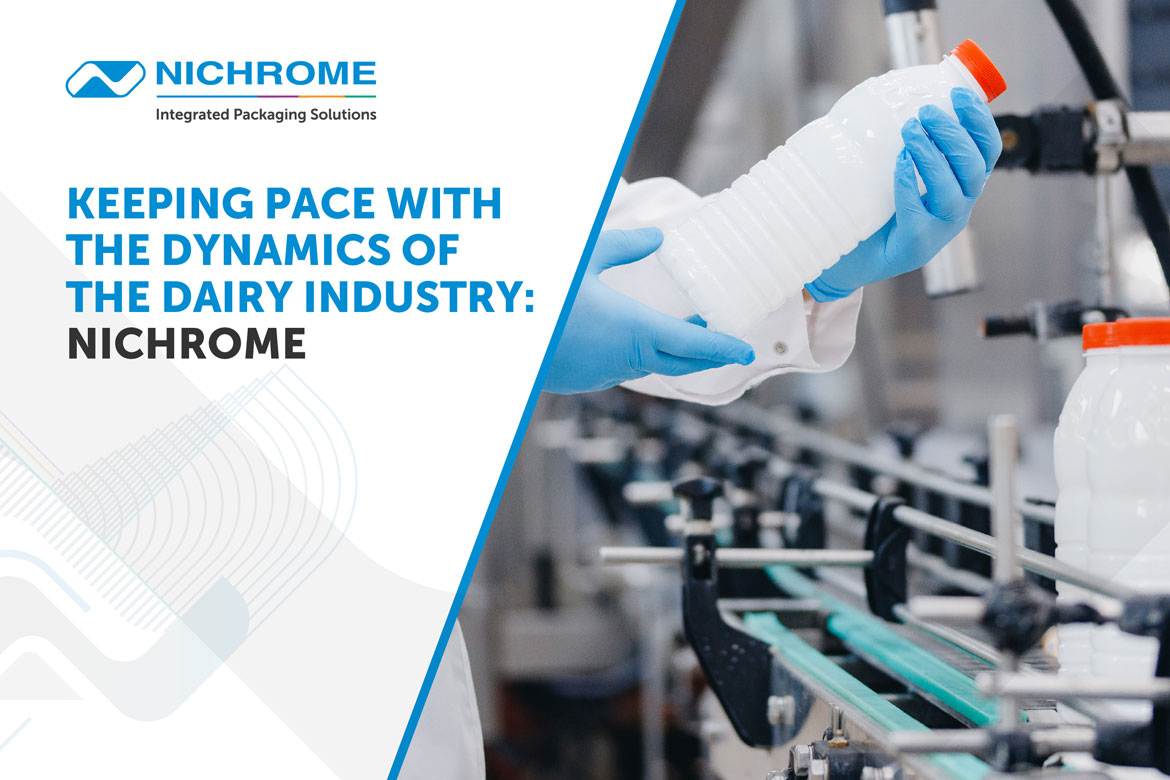 Keeping Pace with the Dynamics of the Dairy Industry: Nichrome
The earliest material for retail marketing of dairy products was glass. Around 1884, it is claimed, glass bottles were first used for milk packaging, and continued to be in usage till around World War II when wax-coated paper containers came into existence. This was followed by plastic-coated paper, and today, more than 75% of dairy packaging is plastic.
The fast pace of life and changing food preferences have triggered a huge demand for packaged food. And, the dairy industry is no exception. Through extensive research and development, the dairy industry has managed to not only expand the range of products but also to extend the shelf life of the dairy products.
Shelf life of dairy products and emerging trends in packaging
Shelf life is a concern for all food products. Dairy products are influenced by certain intrinsic factors that include pH, nutrient content, presence of antimicrobial compounds and oxidation potential of the milk. Pasteurization, condensation, and drying are the common methods used to make dairy products fit for packaging and storing.
Storage conditions and air content are the extrinsic factors that affect shelf life of dairy products. Temperature too is critical to maximize shelf life. Keeping all these factors in mind, dairy companies are investing in packaging technologies like controlled and modified atmosphere packaging (MAP), intelligent, active, nano and antimicrobial packaging etc. to enhance shelf life of their products.
Dairy product manufacturers are now switching to eco-friendly packaging materials such as bio plastics made from materials like cornstarch, biodegradable plastics and recycled plastics. Manufacturers are also adopting structural innovations such as multi-layered milk bags, stand-up milk pouches and preformed pouches which also provide the much-needed convenience and portability demanded by modern consumers.
Nichrome and dairy packaging
Nichrome is India's pioneer in automatic packaging machines, having developed the first indigenous milk pouch packaging machine way back in 1977. Today, decades later, Nichrome offers a gamut of dairy packaging machines &solutions for different dairy applications.
As the country's top milk pouch packaging machine manufacturer, Nichrome's expertise extends beyond liquid milk packaging to other dairy products as well. Nichrome partners with milk & dairy producers to grow their business with the quality of the product intact. From small dairy farmers to large dairies to multinationals, Nichrome provides comprehensive service – from consultation and customised solution development to dependable service and support.
For small dairy farmers, Nichrome has developed a cost-effective, entry-level mini dairy plant without a boiler, that filters, pasteurises, homogenises and packs milk in 200ml, 500 ml or 1000ml pouches. The milk plant is designed to be compact, energy-efficient and easy to operate for small dairy owners.
Nichrome's range of VFFS milk filling machines includes the Filpack Series:
Filpack Servo 12K: India's fastest milk pouch packaging machine, packing a record 12,000 pouches per hour.
Filpack Servo 6K: A high-speed, low-wastage milk packaging machine, packing 6,000 pouches per hour.
Filpack CMD Alpha: This compact, automatic milk packing machine has twin heads so you can pack two different products at the same time. Filpack CMD Alpha is a popular choice for packaging milk, flavoured milk, lassi, curd.
Filpack CMS 5L: This versatile machine packs both liquids and viscous products with speed and accuracy, in larger 5500ml pouches. Liquids are packed at a speed of 800 pouches/hour, while viscous products are packed at 400 pouches/hour.
Filpack Servo Universal: Available in a Double Head Combo, this nextgen solution serves multiple applications in both free-flowing liquid (milk, buttermilk, water, juicy drinks, etc.) and viscous (cream, ghee, mayonnaise, kefir, etc.). Output speed goes up to 5000 packs per hour.
For dairy powders, Nichrome offers the following:
Excel 400 Plus Servo Auger: Equipped with CE marked PLC controller and touch screen HMI, this powder packaging machine is suitable for packing milk powder and dairy whitener in a variety of pouch formats such as CSPP, Pentaseal, gusset and 4 line seal.
Sprint 250 Plus Servo Auger: For pouch quantities up to 2 Kgs, Nichrome's SPRINT 250 PLUS series offers speed, accuracy and efficiency for flexible packaging of dairy powders.
Maxima 200/400: With a compact design, MAXIMA 200/400 has a small footprint to occupy less space in factories. These milk powder packing machines pack dairy powders in single or perforated chain of pouches.
Multilane Stickpack with multi head servo auger filler: For producers supplying non-free-flowing milk powder and dairy whitener to food chains, travel and hospitality industries, this machine accurately packs the dairy powders in convenient, economical, single-serve stickpacks.
Conclusion
Whatever your dairy product and packaging requirement, talk to Nichrome. Nichrome has the expertise, product line and customisation capabilities to ensure you get the most suitable and cost-effective solution for your dairy products packaging needs.