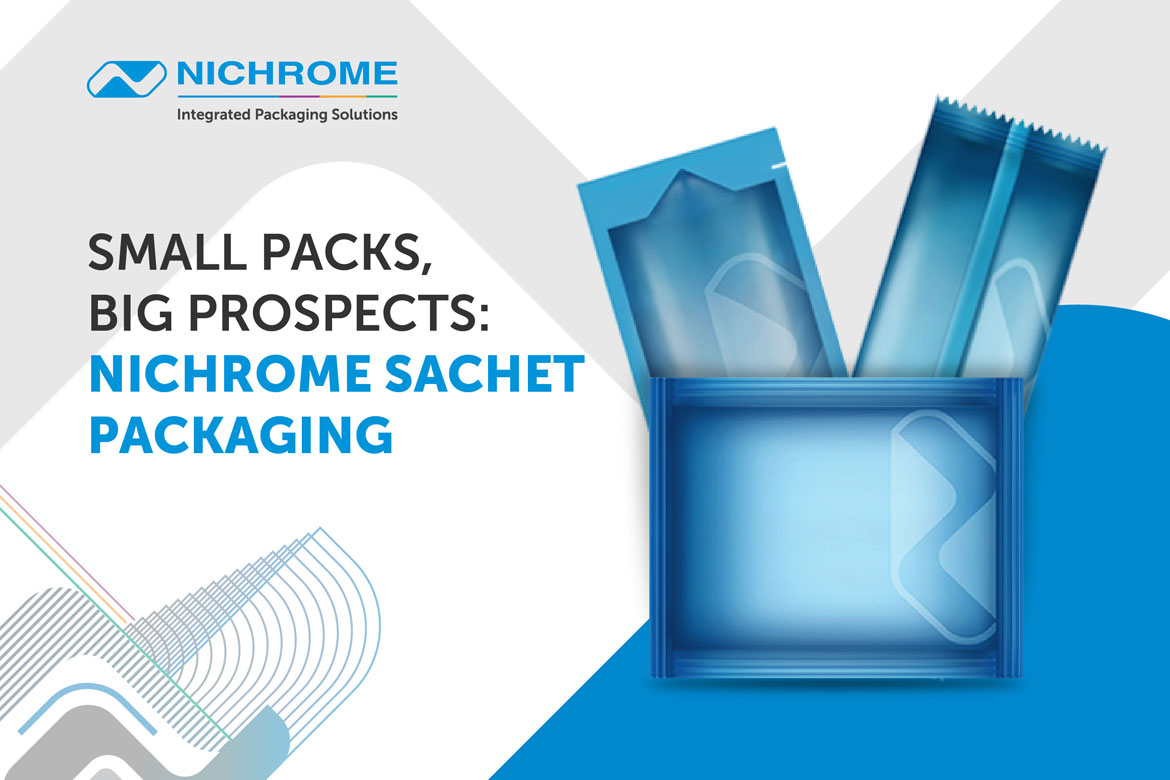 Small Packs, Big Prospects: Nichrome Sachet Packaging
Across the globe, convenience and the on-the-go culture is driving packaging miniaturization. Consumer needs and preferences are changing. In urban areas, consumers look for diverse choice in terms of functionality, quality and price of packaging. In developed countries, consumers are happy to pay for products that make their hectic, mobile life easier.
In emerging economies however, smaller SKUs such as sachets are in demand because they are more affordable than normal family-size packs. They also induce trial and are therefore the preferred format for FMCG and pharma manufacturers who seek to expand their market into semi-urban and rural areas.
Hence, small, individual packages are growing globally. Individual packs such as sachets and stick packs are universally convenient and becoming increasingly popular.
About sachets and stick packs
Sachets are small packs, made by sealing flexible packaging material, on three or four sides.
Sachets are generally flat as opposed to stick packs which have a round or oval cross section.
Stick packs look like tubes or sticks, and are made by sealing a narrow, tube-like packaging, with a continuous side seam, at both ends.
Sachets are used in the cosmetics industry for packaging of single-use quantities of consumer goods such as lotions or shampoos.
Both sachets and stick packs are used in the food industry for packaging small amounts of products such as salt, condiments, sugar, mayonnaise, mustard, ketchup, candies, coffee, dairy whitener, chocolates and much more.
In the pharma industry, both formats are used for small powdered doses such as probiotics, ORS, vitamin D, wet wipes, tablets, lozenges, etc.
The hospitality industry relies on stick packs and sachets, where items such as sugar, milk, coffee creamers, drink mixes, yogurts and ketchup are all packaged in these single-serve format
Compared to stick packs, sachets offer a larger surface area and can be designed in creative shapes to score on branding and point-of-sale appeal
SACHET PACKAGING WITH NICHROME
For high-speed sachet packaging, Nichrome offers VFFS multilane machines: PV-215. These are high speed, flexible, PLC-controlled machines. For practically every application in Pharma, Personal Care, Cosmetics, Healthcare and Food industries, PV-215's intermittent motion technology ensures efficient sealing and a bagger speed of up to 1000 bags/min.
PV-215 is extremely flexible to accommodate quickly any attachments/additional features at any stage due to its shaft-mounted modular concept. It also offers wrinkle-free sealing and user-friendly web tracking.
Pouch formats include 4 side seal, 4 side seal with v-notch, twin sachets, contour pack, and contour with v-notch – to pack quantities ranging from 5 gms to 2.5 Kg.
PV-215 is suitable for an amazingly large and diverse range of sachet packaging applications.
STICK PACK PACKAGING WITH NICHROME
For stick pack packaging, Nichrome offers the Multilane Stickpack with different filling systems depending on the products to be packed. These machines have up to 10 lanes, depending on the width of the stick pack, and the pouch formats are the centre seal stick pack and centre seal stick pack with v-notch, both singly and in a chain with perforation.
Fillers include:
Volumetric Multiple Cavity Filler: for free-flowing powders and granular products such as sugar, salt, pepper, mouth freshner, etc.
Multi-Piston Filler: for packaging liquids and viscous products such as honey, ketchup, mayonnaise, mustard paste, jam, shampoo, etc.
Multi Head Servo Auger Filler: for non-free flowing powders such as milk powders, coffee powder, tea/coffee premixes, etc.
CONCLUSION
Sachets and stick packs are easy to try, easy to carry and easy to use. No wonder the worldwide market is growing rapidly, offering lucrative prospects for manufacturers.
From a production point of view, sachets and stick packs tend to be more cost-effective, both in terms of manufacturing and distribution than larger packs.
Nichrome's sachet packaging and stick pack packaging machines can help manufacturers to grow their market share and meet fast-changing market demands. Nichrome's technology addresses the five key aspects of packaging technology which are:
Flexibility
Dosing accuracy
Performance
Hygienic design
Overall Equipment Effectiveness (OEE)
Whether it is sugar packaging, coffee packaging, ketchup packaging, shampoo packaging or any food or pharma powder packaging, there's a Nichrome automatic sachet packaging machine for you. Discuss your specific requirements with Nichrome; they can help you select machinery that's just right for your application. As India's leading automated packaging machine manufacturer with over four decades of expertise, Nichrome has the experience, knowhow and network to deliver complete satisfaction.