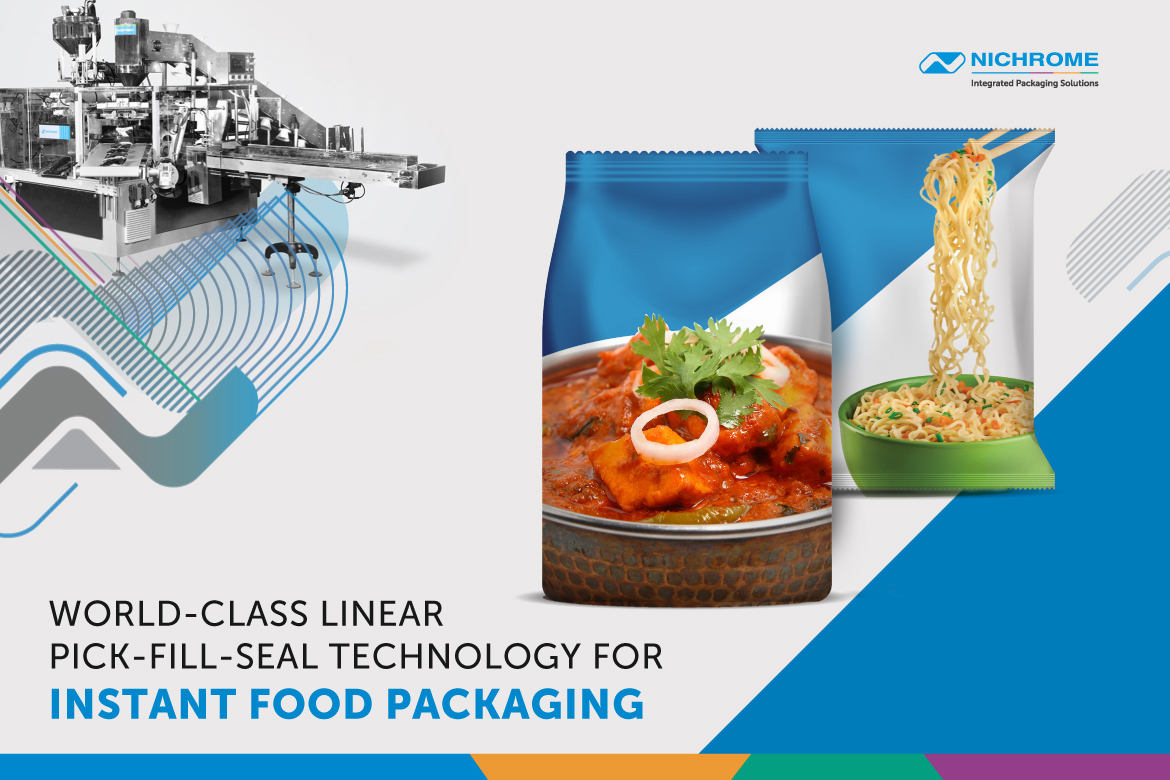 WORLD-CLASS LINEAR PICK-FILL-SEAL TECHNOLOGY FOR INSTANT FOOD PACKAGING
Instant food or ready-to-eat food is growing in popularity. And why not? It is convenient, saving time and energy. It offers variety and pampers our palate with diverse cuisines. It's more cost-effective than eating out.
For manufacturers of such food products, Nichrome offers a sound and smart solution: PFS8.
PFS8 is a Pick-Fill-Seal 8-Station Machine with versatile Rotary Technology for instant food packaging. This horizontal form fill seal machine features next-generation linear technology, providing multiple shape pouch packaging solutions to many industries.
The PFS8 Machine is sturdy and compact, operator friendly, easy-to-clean and maintain. The high precision, automatic packaging machine is controlled through a PLC, with the latest synchronised Motion Servo System.
Applications
PFS8 is ideal for packaging a wide range of ready-to-eat products such as palak paneer, dal makhani, butter chicken, biryani, pulao, matar paneer, punjabi chole, rajma masala, etc. besides ready-to-cook products like ready gravies, pasta, noodles, upma, poha, etc.
PFS8 is a big boon for food manufacturers who may want to diversify their product range. Different fillers can be used to package other products such as powders, granular products, snacks, free-flowing liquids or viscous products.
Packaging material and pouch formats
The PFS8 uses heat sealable laminates like PET/PE, Paper/Alu-foil/PE, Alu/PF, Alu-foil/PE or Co ex films, and offers a variety of pre-formed pouches:
3 side seal pouch
4 side seal pouch
standup pouch
standup with zipper
standup with side spout
other customised pouch formats.
The Nichrome Advantage
The PFS8 horizontal packaging machine is brought to you by Nichrome, India's leading packaging machine manufacturer and provider of integrated packaging solutions. Nichrome believes in partnering with customers through the entire lifecycle, studying specific requirements and delivering the most appropriate, cost-effective solution.
Nichrome's expertise and experience in food packaging is proven over four decades. Discuss your needs with Nichrome and expect complete satisfaction. Nichrome delivers the complete package of consultancy, technology, domain knowledge, manufacturing, and after-sales support.