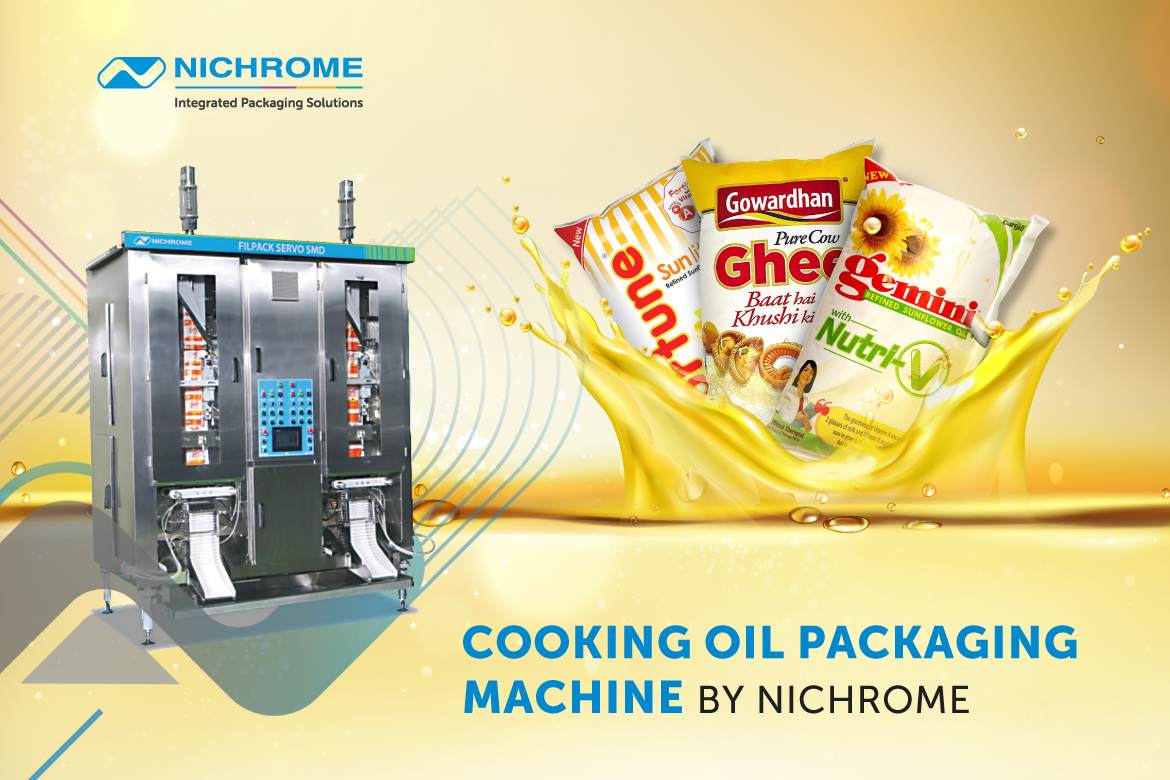 COOKING OIL PACKAGING MACHINE BY NICHROME
Edible oil is a vital constituent of kitchens everywhere. The packaged edible oil market is growing relentlessly as consumers shift from buying loose oil to safer, more hygienic packaged oil.
In cooking oil packaging, especially for small quantities up to 1 litre, flexible pouches are growing in popularity due to their cost-effectiveness – both to manufacture as well as to transport and store. Pouches remain preferred packaging solutions due to their malleability and low weight. In addition, they protect the products from contaminants and improve retail value.
For pouch packaging of edible oils, Nichrome offers a range of VFFS and HFFS packaging machines. As a leading automatic filling machine manufacturer for over four decades, Nichrome has the expertise and technology to deliver innovative oil pouch packaging machines that pack with speed, accuracy and hygiene. Nichrome's edible oil packaging expertise combined with its sales and service network across the country and abroad make it a trusted partner for reputed cooking oil manufacturers, both big and small.
Nichrome's Filpack Servo SMD
The star of Nichrome's range of VFFS edible oil packing machines is undoubtedly the Filpack Servo SMD. A durable, heavy-duty performer, it has touch screen HMI panel and PLC to control operations. It occupies less floor space and has an enclosed SS cabinet for hygienic operation.
Filpack Servo SMD comes with twin head construction with independent head operation so you can pack two different products and quantities simultaneously.
Filpack Servo SMD packs in 3 side seal pouches at speeds ranging for 80-85 packs/minute for quantities of 100, 200 and 500 ml, and at 70-80 packs/minute for 1000 ml pouches.
This cooking oil packing machine is also a ghee packing machine, working with versatility and reliability for a range of viscous applications that include vanaspati, ketchup, fruit pulp, mayonnaise, curry pastes, and even grease, paint, lubricating oil, adhesives, etc.
Other features of Filpack Servo SMD
• Positive displacement pump filler with fine quality adjustment facility
• Operator friendly PLC controller
• Full mechanical machine. No requirement of compressed air.
• Enclosed SS cabinet construction for hygienic operation
• Advanced linearly adjustable Impulse Seal
• Specially designed film roll unwinding mechanism for smooth bag pulling operation
• Less floor space requirement for machine installation as no side opening required
• UV sterilization of packaging film
• End of film roll facility with parking mode interlock
• Facility for using panel printed films
• Servo motor driven precise bag length control mechanism
• Servo motor operated bag longitudinal and cross sealing system
• Motorized special film tracking system offering lateral movement of film trolley
• Isolation of film reel mounting area from other lubricating mechanisms of the machine to avoid contamination of film during transportation due to foreign particles
• Suitable for large range of film with minimal setting
Conclusion
If you're looking for an automated packaging solution for cooking oil that assures performance and peace of mind, Nichrome's Filpack Servo SMD is the answer. It is compact, durable, easy to operate and maintain, promising long service life.
Consult Nichrome with your requirements and they will ensure you get the most relevant, cost-effective edible oil packaging machine for your plant. Nichrome will transform your oil pouch packaging operations with their proven expertise and range of advanced products for modern pouch packaging.