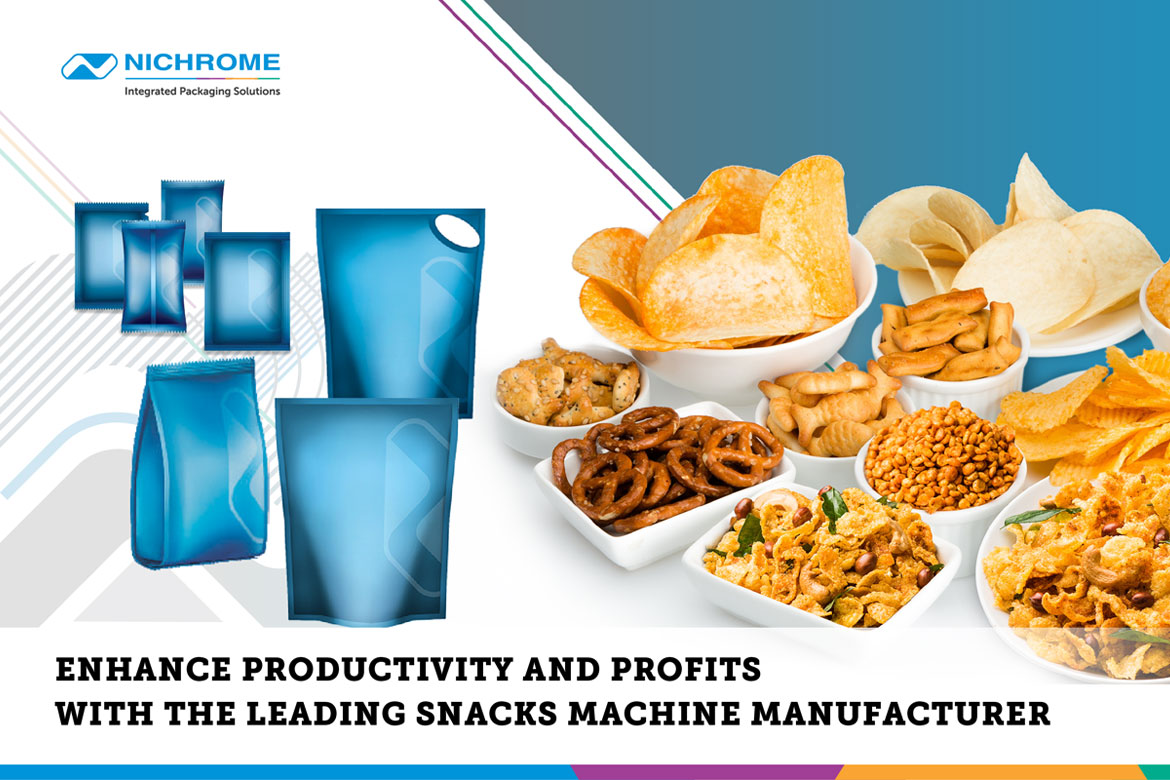 Enhance Productivity And Profits With The Leading Snack Machine Manufacturer
As consumers turn away from loose snacks and mithai towards hygienically packaged products; as online shopping becomes the norm across India; marketers of snacks need to considerautomated snack packaging machines. It's the only way to build your consumer base, and expand your market.
High quality snack packagingoffers many advantages, such as:
attractive retail appeal
hygiene; products untouched by human hands
protection from air, water & contaminants
longer shelf life
better mobility
easier to transport, distribute& store
With these advantages for your business, snack manufacturers can improve retail value of their products and make forays into new markets, thereby growing sales and profits.
Nichrome snack packaging machines
Nichrome is India's leading provider of integrated packaging solutionswith a whole gamut of offerings for snack packaging. Nichrome range of automated snacks packaging machinesand namkeen packing machinessuit different needs and budgets while offering some definite advantages:
high speed performance
accuracy in weighing & filling
excellent vacuum sealing
easy changeover for multiple products
easy cleaning and maintenance
flexible pouches for better packaging design
robust construction
HACCP &GMP compliance
reliable performance
flexibility: different fillers make multiple applications possible on the same machine
All these features add up to big benefits for snack manufacturers. Greater speed and efficiency means improved productivity for your factory, and longer life for your products.
Choose your pouch format
Nichrome offers a wide range of automated snack food packaging machines, each offering different flexible packagingformats. Some of the most popular snack packagingformats include:
Chain of small pouches
Nichrome's Sprint Snack Pack packs snacks such as chips, namkeen, puffed snacks, dry fruits, etc. in Centre Seal Pillow Pouches of different sizes. It has a perforation mechanism that produces a chain of pouches that is easy to display in crowded Indian stores.
Large bulk packs
Nichrome's snack packaging machinesoffer a variety of large pouch formats such as the Gusset, Gusset with D-cut, Penta Seal and Quad Seal pouches. These are ideal for bulk packaging up to 10 kgs and pack at a speed of 80 bags per minute.
Stand up pouches
Nichrome has innovated India's first vertical pouch packaging machine! The Excel Vertipack 320 has been developed for packaging dry fruits, snacks, pasta, grains, etc. in a variety of stand up pouches with or without zipper.
Sealed trays
Nichrome's tray sealing machinesare the perfect choice for packaging Indian mithai, snacks and other food products. MAP (Modified Atmosphere Packaging) technology ensures the snacks are packed safely in preformed trays, untouched by human hands – and sealed tight in a modified atmosphere that prevents spoilage and extends shelf life.
Special innovation for start-ups
More and more snack manufacturers are seeing the need for automating their packaging process. To retain old customers, attract new ones and make inroads into new markets, snack manufacturers need modern packaging that's safe, accurate and effective.
But not every snack producer has the space or budget for an expensive snack packaging machine.Nichrome has a solution. Nichrome has designed a special snack packaging machineunder the brand name 'E-Line', for such start-ups and small-medium enterprises.
Wing 200 E-Line is an exclusive entry-level snack packaging machinethat delivers all the technology, expertise and reliability of Nichrome in a compact, affordable format. Wing 200 E-Line is designed to fit modest space, budget and performance expectations.
It is the ideal machine for chips, kurkure, namkeen, pasta, dry fruits, candies – even sugar, grains and pulses. Products are vacuum-packed at a speed of 80 bags per minute in economical Centre Seal Pillow Pouches (CSPP). Perforated chains of pouches are also possible.
Conclusion
As hygiene and safety become increasingly important for the modern consumer, automated snack packaginggrows in need. The ongoing pandemic further emphasizes the need for hygienically packed and sealed packs.
For snacks producers, it makes sense to partner with a snack packaging machine manufacturerwho truly knows and understands the business. Nichrome offers a wide range of high quality, high speed snack packaging machines, and can even customise solutions for specific needs.
Nichrome provides end-to-end support, right from consulting to understand your requirements and recommending the most relevant, cost-effective solution, to manufacturing and delivering it. Nichrome also helps integrate the machine in your upstream or downstream systems, provides training for your staff, and offers timely support and spares when required.