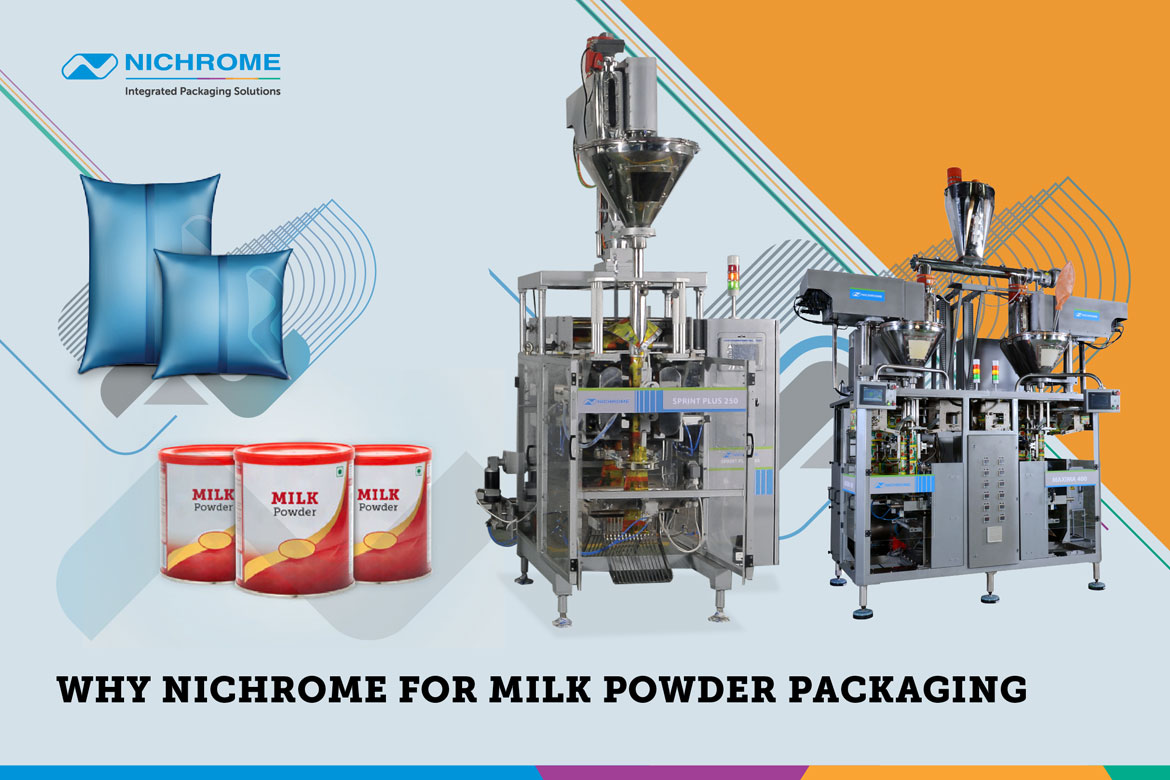 Why Nichrome For Milk Powder Packaging
About milk powder
Milk powder is made by converting liquid milk into a dry product that can be stored without substantial loss of quality. There are four main types of milk powder: dairy whitener, skimmed milk powder, whole milk powder and baby food powder.
Milk powder production involves the removal of water from milk solids. The final product is easily transportable, small in volume and has a significantly longer shelf-life than pasteurised liquid milk. The removal of water is achieved via three steps: milk treatment, evaporation and spray drying or roller drying. The milk is concentrated approximately 10-fold to form a powder.
Milk powders are used by consumers as a substitute for fresh milk, and as ingredients for the manufacture of a wide range of processed food products such as confectionaries, infant formulas, nutritional foods, ice creams, yogurts, chocolate, bakery products, soups, sauces, etc.
Milk powder packaging with Nichrome
Milk powder packagingis crucial because it impacts the quality, safety and marketing of the product. Milk powder is prone to lipid oxidation owing to its hygroscopicity and fat content, and therefore should be packaged to prevent contact with light, oxygen, moisture and contaminants.
Stable and beautiful packaging can increase the value of milk powder to consumers by providing a sense of hygiene, nutrition, taste and security. Packaging, by enhancing the value of the milk powder, serves to effectively promote the sale of milk powder.
Nichrome milk powder packagingtechnology extends to various formats under 2 broad categories:
1.Tin Cans
Milk powder has a long shelf life when packed in metal cans due to their excellent barrier properties physical strength, durability, absolute barrier properties to moisture, O2, and light, absence of flavor or odor, and rigidity. Nichrome's tin filling system packs in quantities up to 1000 gms.
2.Flexible multilayer pouches
Flexible pouches or sachets made of aluminum foil or plastic film laminates, are slowly but steadily replacing the tin can. Flexible packages reduce manufacturing and transport costs. As they require less material, they minimise post-consumer waste. The various flexible packaging formats offered by Nichrome's milk powder packaging machinesinclude:
Stick pack
– Small sachet
Gusset bag
CSPP/Chain of pouches
Pentaseal/ Pentaseal with D-cut
Stand up pouch
Nichrome's milk powder packaging range
Nichrome has decades of experience in the milk powder packaging process. Nichrome's technology ensures the product is delivered with safety and quality to the consumer, keeping freshness and flavour intact.
Nichrome offers a range of high quality, affordable, and flexible solutions for milk powder packagingalong with prompt sales and service support for all packaging related needs. Nichrome's many rugged, field-proven solutions are:
TIN FILLING LINE
sturdy, low maintenance system
PLC controlled
Construction available in SS3014, SS316 and MS painted material
Auto lid feeding, placing & lid seaming
Fast changeover design for different size of tin
Various tin sterilisation and cleaning options are available
VFFS powder packaging machine
PLC controlled
Cross sealing jaws for optimum performance
Easily integrated with upstream/downstream systems
Pouch formats: 4 line seal, Pentaseal, CSPP, Gusset, Pentaseal with D cut
VFFS technology
PLC controlled
For quantities up to 2 kgs
Perforation system to deliver chain of small pouches
Pouch formats: CSPP (single or chain)
Compact design, small footprint
PLC-controlled
Maxima 200 packs 200 pouches/min; Maxima 400 packs 400 pouches/min
Maxima 400 packs different products with different quantities on each head
Pouch format: CSPP (single or chain)
For producers serving the travel, food chain & hospitality sectors
PLC controlled
Up to 10 Lanes (depending on stick width)
Flexibility for product and format changes
Pouch formats: Centre seal stickpack; Centre seal stickpack with V notch
T-SERIES
Compact HFFS machines
Linear technology from Europe
PLC controlled
Duplex model available for higher output
Pouch formats: Stand up, stand up with zipper/euro slot/handle
Conclusion
The milk powder industry is booming in India and abroad, driving demand for automatic milk powder weighing and packaging machines. Nichrome is India's leading provider of integrated packaging solutions offering a gamut of packaging machines, filling systems and turnkey projects for the dairy industry. Partner with Nichrome to find the best, most cost-efficient milk powder packaging machine for your business. Nichrome can also help with secondary packaging solutions, and integration with existing systems.