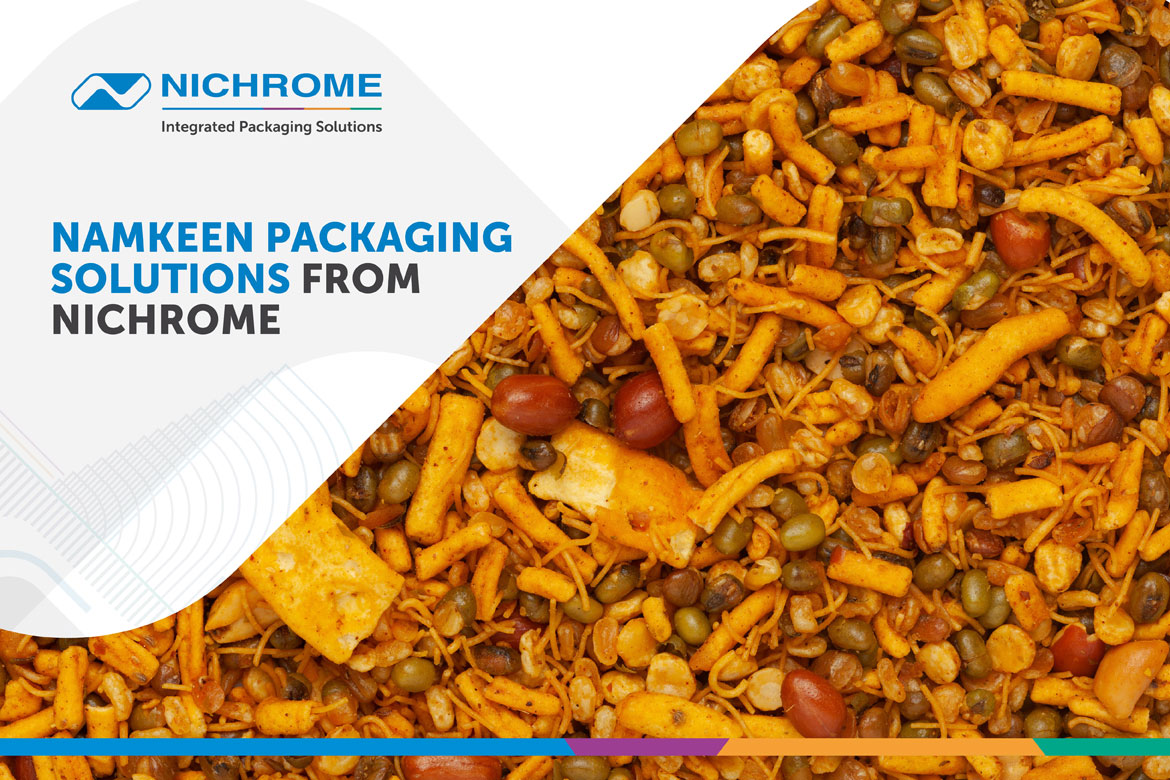 Namkeen Packaging Solutions from Nichrome
Nichrome is India's leading integrated packaging solutions provider, with over four decades of expertise in their domain. Nichrome constantly assesses evolving market needs and develops automatic packaging solutions that are suitable, efficient and cost-effective.
With India's snack market growing in leaps and bounds, traditional namkeens are in demand – as they are all-time favourites. However, considerations regarding hygiene and comfort have forced namkeen makers to adopt the latest trends in packaging to retain their spots on retail shelves.
Nichrome's offerings include comprehensive packaging solutions for Indian namkeen packaging, in addition to other snacks such as wafers, nuts, dry fruits etc. These snack packaging machines are also capable of use in other applications such as sugar, grains, pulses, pasta, soya chunks etc.
Every automatic packaging machine from Nichrome comes with the latest technology, with the focus on ensuring the freshness, crispness and shape of the snacks.
The VFFS namkeen packaging machine range from Nichrome includes:
Wing 200 E-line Snack Pack
The Wing 200 is an exclusive packaging solution from Nichrome designed for startups and small-medium enterprises. It comes with Nichrome's extensive expertise and its reliable technology in a compact, affordable design that is configured to fit relatively modest space, budget and performance requirements.
It has the capacity to pack CSPP pouches at a rate of 80 pouches/min.
Excel Vertipack 320
The Excel Vertipack 320 is yet another versatile innovation from Nichrome and India's first vertical pouch packaging machine. The Excel Vertipack 320 was designed for packaging dry fruits, snacks, pasta, grains etc in a number of standup pouches with or without zippers.
Excel Vertipack 320 comes with the assurance of robust performance and unmatched versatility with its sturdy design, online check weigher and metal detector, compatibility with multiple fillers, and an abundance of other features.
Sprint 250 Snackpack
The Sprint 250 Snackpack was designed particularly for the snacks and namkeen industry and offers quick and easy tool-less changeover of parts resulting in minimum product fall height.

The Sprint 250 Snackpack's construction is HACCP & GMP compatible and can pack a wide variety of namkeens, snacks and related food items in various pouch formats such as Gusset with D-cut, Gusset and CSPP. It has a perforation system that allows for the production of chains of small pouches. It has an output speed of 150 packs/min.
Excel 400 Plus Multihead Weigher
Coming with the added advantage of automation, the Excel Plus series is equipped with CE marked PLC controller and touchscreen. Some significant elements of this series are static charge eliminators, print mark scanners, servo motor driven bag length control system and adjustable cross-sealing jaws for the best performance. It can be easily integrated into upstream or downstream systems as well.

This series is compatible with a range of fillers which makes it a genuinely versatile solution for snacks, powders grains, granules, snacks etc. It can pack in a variety of pouch formats such as Pentaseal, 4 line seal, CSPP, Gusset and Pentaseal with D cut.
Sprint 250 Plus Multihead Weigher
The Sprint 250 Plus from Nichrome offers accuracy and efficiency for the flexible packaging of a diverse range of snacks, grains and powders and can package pouch quantities up to 2 Kgs with an output speed of up to 150 packs/min. Being an automated packaging machine, the Sprint 250 Plus comes with CE marked PLC and a touchscreen HMI. The servo motor driven sealing system is very effective at sealing while maintaining pressure levels. It offers a perforation system to deliver a chain of small pouches and is programmed to pull the exact length of film required for packaging.
Nichrome offerings also include a range of HFFS Namkeen packaging machines with the latest linear technology from Europe. These machines are quite versatile and can be deployed to pack a wide range of powders, grains, snacks, liquids and viscous products with a range of fillers. This series offers a variety of pouch formats with superior aesthetics.
The HFFS machines have a touchscreen interface and are based on PLCs. With a compact and versatile design, this series offers both single and perforated chain of pouches with quick and easy changeovers. Duplex modules are optional for higher output requirements.
Conclusion
If you're a manufacturer of namkeens and other snacks and want to improve your packaging for a wider market, Nichrome can be considered your ideal packaging partner. Nichrome's integrated packaging solutions are automated with CE marked PLC controllers and a touchscreen HMI for ease of operation and control. These packaging machines can be conveniently integrated into upstream/downstream systems and can be used for a wide range of applications as a result of their compatibility with multiple fillers and quick, tool-less changeover. Nichrome also offers the option of customizing solutions for application-specific requirements. Nichrome will develop a suitable solution after studying your products and the pertinent requirements. Nichrome is the ideal partner to deliver performance and productivity for your packaging requirements.