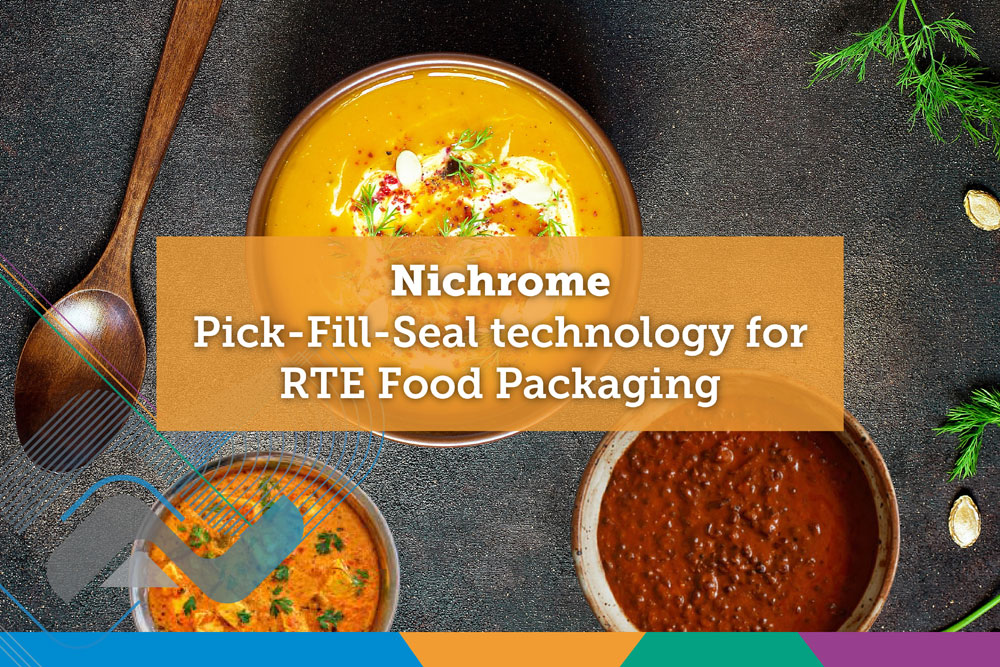 Nichrome Pick-Fill-Seal Technology for RTE Food Packaging
Ready-To-Eat (RTE) food is the trend today. Across Indian cities and towns, as lifestyles get busier, disposable incomes rise and taste for diverse cuisines grows, more and more people opt for RTE foods. After all, RTE food saves time and energy, offers convenience and variety. Newer preservation techniques have led to enhanced shelf life, adding to the appeal of RTE foods.
To cater to this growing market, there are a number of companies offering a wide variety of RTE food. From Mavalli Tiffin Room (MTR), GITS Food Products Pvt. Ltd. and Indian Tobacco Company (ITC), to Kohinoor Foods, Priya Foods and many more.
Nichrome's Pick-Fill-Seal machine (PFS) is the ideal solution for RTE food manufacturers looking for an efficient, durable, easy to maintain packaging machine. Players in the processed food industry are assured speed, efficiency and flexibility to make operations smooth and profitable.
The PFS offers the combined benefits of variety, productivity and specialty packaging for ready-to-eat food packaging. The ready to cook packaging machine conveniently packs a wide variety of ready-to-eat and ready-to-cook foods in eye-catching innovative shapes while maintaining freshness of the products. The RTE Filler facilitates the packaging of products such as Palak Paneer, Dal Makhani, Butter Chicken, Gravies, Matar Paneer, Punjabi Chhole, Punjabi Kadhi, Rajma Masala, Pulao, Biryani, etc.
The high-precision PFS packaging machine is controlled through a PLC with touch-screen interface, and supports a variety of pack/pouch formats. Packing material for preformed pouches include heat sealable laminates like PET/PE, Paper/Alu-foil/PE, Alu/PF, PET/Alu-foil/PE or Co ex films.
The Horizontal Form Fill Seal (HFFS) machine is a sturdy, cost-effective solution with multiple filler options. Advanced packaging technology enables 2 or 3 different fillers to dispense multiple types of ingredients in the same pouch.
Versatile solution
Nichrome's PFS is a truly versatile automatic packaging machine. By changing the filling system, the PFS can be efficiently used to package a wide variety of diverse products.
The Linear/Gate Weigher filling system can be used for vegetable seed packaging while the Servo Auger Filler is suitable for powders like ORS, Pharmaceutical Powder, Spice Powder, Milk Powder, Coffee, Health Drinks, Instant Mixes, Premixes, etc. Multi-Head Weighers are used for snack & namkeen packaging. Piston Fillers transform the machine into a ketchup packaging machine, ideal for viscous products like sauces, pastes, pickles, soup, ghee, etc.
Other filler options include Cup Filler (for sugar, rice, pulses, etc.) and Gravity Filler/Flow Meter (for liquids like milk, lassi, oil, juices, wines, etc.).
No wonder Nichrome's PFS machine is the preferred choice of RTE and RTC food manufacturers. Nichrome is India's leading integrated packaging solutions company so the PFS comes with Nichrome's rich expertise and experience in the food packaging sector. Nichrome partners to understand specific product and performance requirements, and tailors solutions for best outcomes.