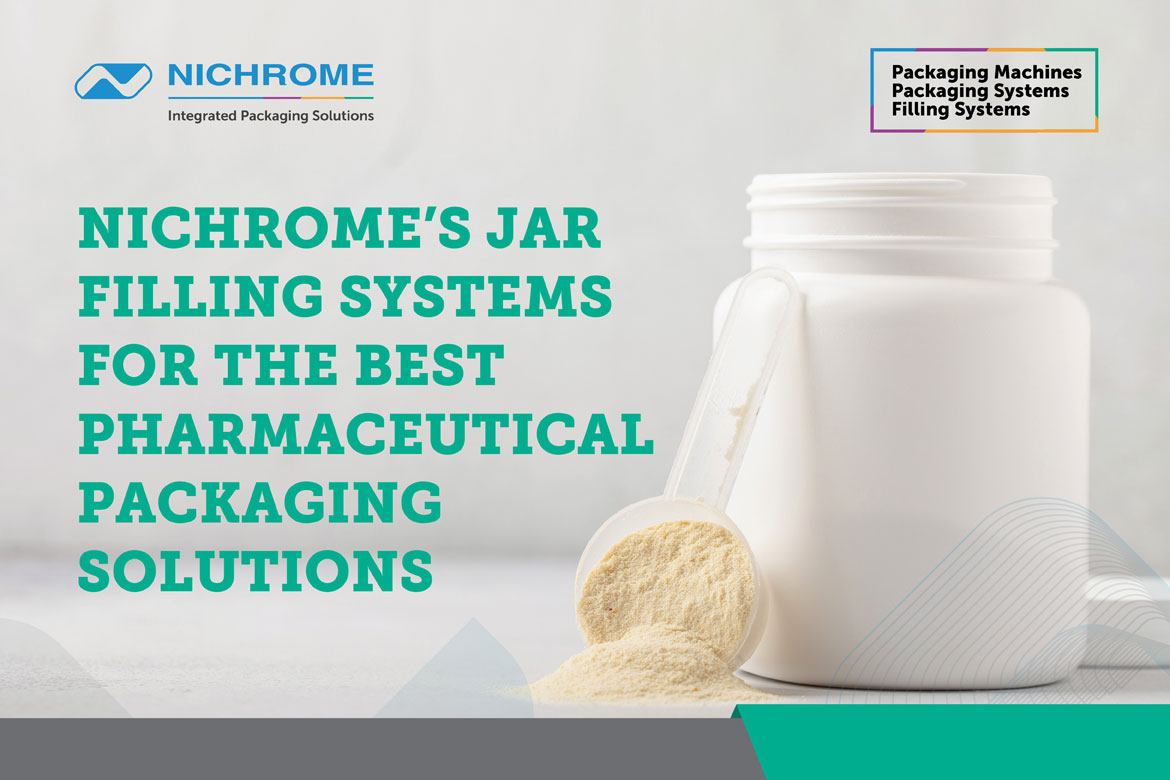 Nichrome's Jar Filling Systems For The Best Pharmaceutical Packaging Solutions
Nichrome's Integrated Packaging System is a complete packaging solution that combines multiple machines and processes into a single, cohesive system. Our system includes a range of machines, including filling machines, sealing machines, and labeling machines, which work together seamlessly to deliver efficient, high-quality packaging. Our Integrated Packaging System is fully customizable to meet the unique needs of each customer, and is designed to increase productivity, reduce downtime, and improve overall packaging efficiency.
Pharmaceutical Industry and Jar Filling Systems
The pharmaceutical industry requires high accuracy and precision in every stage of production, especially when it comes to packaging. One of the essential aspects of pharmaceutical packaging is jar filling, which can be accomplished using a range of different machines. Among these machines, jar filling systems have become increasingly popular, and for good reason.
Benefits of using Nichrome's Jar Filling System for your Packaging:
Nichorme is the leadingJar filling machine manufacturer that designs machines that deliver your products with the highest accuracy in mind. Our machines are equipped with sensors and automated controls that ensure precise and consistent filling every time. This is particularly important for pharmaceutical products, where even slight variations in dosage can have significant consequences.
Our highly advanced jar filling system can be used for a range of different products, from powder jar filling machines for dry pharmaceuticals to ghee jar filling machines for thicker products. This versatility is due to the customization options available from Nichrome, who can tailor the machines to meet the specific needs of your particular product.
Our automatic carton box packing machine, the secondary packaging of jars can also be streamlined. Our machines can pack multiple jars at once, and at a much faster rate than manual packing. This not only saves time but also reduces the risk of human error and ensures consistency in packaging.
Investing in a jar filling system may seem like a significant expense upfront, but it can actually be a cost-effective option in the long run. The increased efficiency and accuracy of our jar filling machine can reduce wastage and product loss, which can save money in the long term.
Pharmaceutical products must be packaged safely and securely to ensure they reach customers in optimal condition. A jar filling system ensures that each jar is filled accurately and securely, reducing the risk of spillage or contamination during transportation or storage.
In conclusion, a jar filling system is a must-have for any pharmaceutical manufacturer that values accuracy, efficiency, and product safety. Nichrome with its versatility, customization options and advanced features available makes it the most reliable and leading jar filling machine manufacturer in India. These machines are a reliable investment for your pharma industry. Our machines are designed to be combined with an automatic carton packing machine for secondary packaging. We offer a complete solution that can streamline the entire process, from filling to shipping and help you provide the best packaging for your industry.
We are also a leading provider of ghee jar filling machine, tin packaging machine, tin can filling and sealing machine, bottle capping machine, automatic bottle filling machineand shrink wrapping machine.