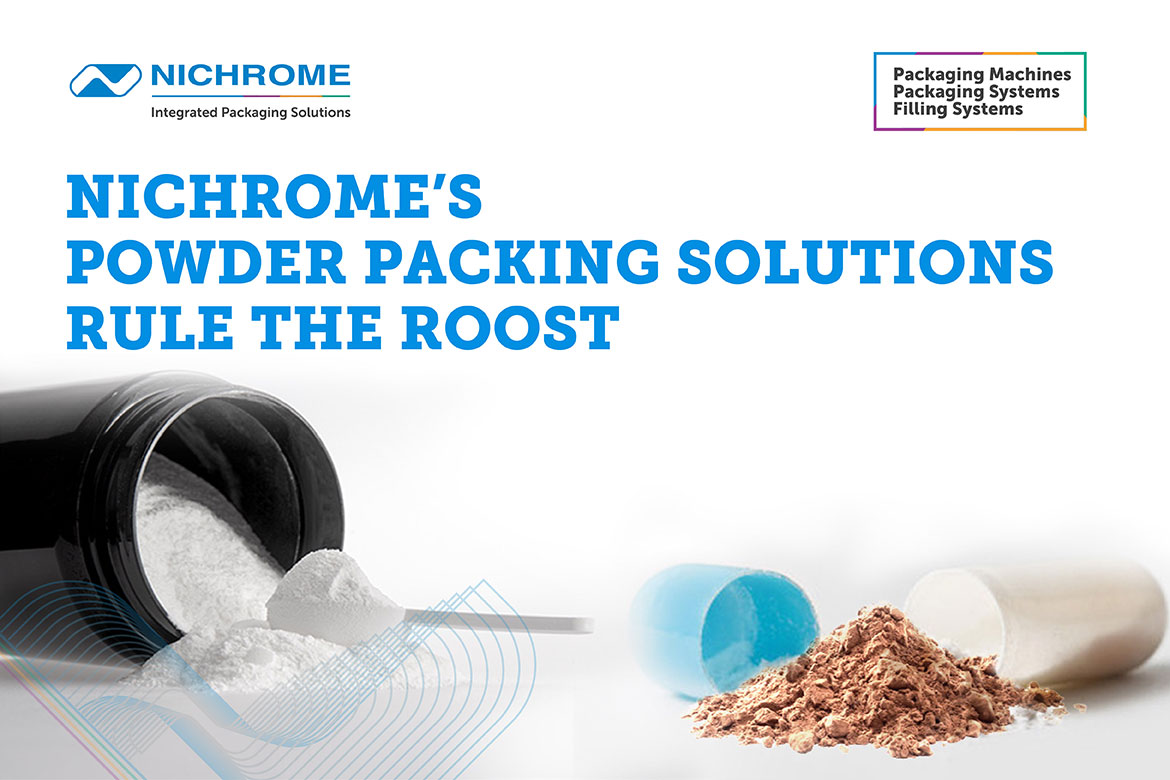 Nichrome's Powder Packing Solutions Rule The Roost
Tins (or cans) are used mainly in the food and pharma industry where quality packaging is paramount. Tins are commonly used for packaging of powders because they ensure safety, durability, and convenience. This makes them the preferred choice for packaging coffee powder, milk powder, baby formula, spice powders, nutritional supplements and more.
…And Nichrome India Limited's integrated tin packaging solutions such as its powder filling machines, and tin packaging machines are regarded as the industry standard. Nichrome can provide both standardized and fully customizable powder packaging solutions for both the food and nutraceutical industry.
Nichrome's Powder Packaging Solutions
Nichrome's tin filling machine line for powders and tin packing line for powders are robust, low maintenance-driven and made for accurate and efficient performance for powder packaging in tins.
The programmable logic controller (PLC)-fitted line features a digital liquid crystal display (LCD) touchscreen with settings. It also has safety enclosures with interlocks for rotary parts. Various tin sterilization and tin cleaning options are available from Nichrome.
Tins for powder filling come in various formats like tin with sealing, tin with capping and composite tins. They are used to fill snacks, ready-to-eat food, liquids, powder, spice, coffee etc.
Why Nichrome?
Nichrome offers an efficient tin powder filling line system that helps you meet your packaging needs. Just change the filler to fill different products, and this innovative packaging solution will enable powder tin packaging in stock keeping units ranging from 100 gm to 1000 gm.
Whether it is milk powder, spice powders, seasoning powders &pharma powders or pulses, grains, sugar or tea, Nichrome's tin packaging machine, powder filling machine, oil tin filling machine, and tin filling and sealing machine are always the talk of the industry.
Nichrome's tin filling and sealing machines, tin packaging machines, powder filling machines, oil tin filling machines, denote peace of mind for the packaging industry.
Powder Packaging Par Excellence
Nichrome's tin filling and sealing machines for powders guarantee high-speed, accurate filling. Nichrome's powder tin filling line system includes a turn table for empty tins, and an inverted tin cleaning machine.
The line system also features a UV chamber, dial indexing unit for twin tin filling, two servo auger fillers, seamer, date batch coding system, capping machine (lid pressing unit), cap elevator with storage silo and turn table for filled tins.
Powder Filling and Sealing
In a Nichrome powder tin filling and sealing machine, by changing the filler, one can pack a wide range of food and non-food products in tin or composite tin containers. Our line is especially geared for pharma powders and detergent powders.
Secondary Packaging
Nichrome can also help with secondary packaging solutions, and integration with existing systems.Secondary packaging is the first thing your customer sees when picking up your products and browsing retail shelves.
Nichrome also provides a wide range of automated packaging systems for bulk packaging machines, secondary packaging solutions such as wrapping machine, horizontal wrap machine, cartooning machine, and box packaging machine. Nichrome trains your staff in machine operations and provides after-sales support.
Nichrome's fast and efficient box cartooning machines, is a secondary packaging machine has a rated output of upto 180 cartons per minute and handles a variety of cartons with option of both side tuck-in, both side gluing or top tuck-in with bottom gluing.We offer both continuous and intermittent fully automatic cartooning machines which we integrate with primary packaging.
Other Automated Packaging Lines
Nichrome's automatic bottle filling system is an integrated packaging solution that can pack liquids and powders in stock keeping units (SKUs) ranging from 100 ml to 200Litre.
For producers supplying non-free flowing powders such as milk powders, coffee powder, tea/coffee premixes, etc. to food chains, travel and hospitality industries, Nichrome offers unmatched efficiency through its range of Vertical Form Fill Seal (VFFS) machines like High-Speed Double Head Wing Servo Auger Filler,can be used for packaging powders like salt.
The Saltpack Vertical Form Fill Seal Machine is a high-speed packaging solution. It is a robust machine with open construction, made of special grade material suitable for salt handling.It involves the lowest running cost through reputed control engineering (CE) marked Programmable Logic Controller (PLC) housed in dust tight electrical panel for machine control.With optional fillers, Saltpack can also be used for packaging other free flow products and viscous products.
Nichrome's Horizontal Form Fill Seal (HFFS) packaging machines bring you new generation, linear technology from Europe. The series is versatile and can be used for packing a wide range of powders, grains, snacks, liquids, and viscous products using different fillers. The series also offers a range of pouch formats with superior pouch aesthetics.
Conclusion
Nichrome offers a range of proven powder packaging machines for a plethora of free-flowing and non-free-flowing powders across food, pharma, and other industry verticals.Food powder packaging machine or coffee powder packaging machine, detergent powder packaging machine or milk powder packaging machine–Nichrome has a suitable solution for every need. While one machine may not be able to package all powders, Nichrome's powder packaging machines are especially versatile, and one machine can handle several powder applications with easy changeover.