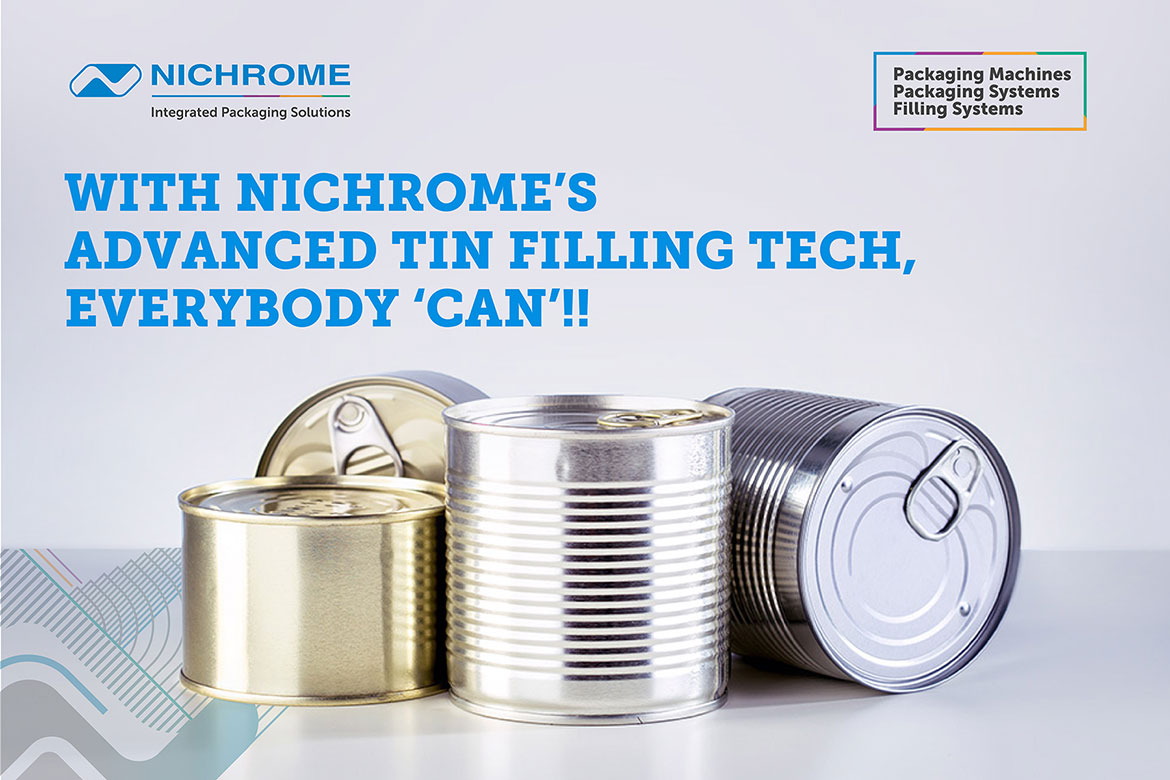 With Nichrome's advanced tin filling tech, everybody 'CAN'!!
Tin filling machines are abundantly used to fill all types of solids and liquids in tins which comes in various formats. A tin packing machine is well accredited in the market for its distinctive features such as low power composition, high-end performance, and easy installation.
Nichrome's tin filling machine line or tin packing line is a robust, low-maintenance system made for accurate and efficient performance. The programmable logic controller (PLC)-fitted line features a digital liquid crystal display (LCD) touchscreen with settings. It also has safety enclosures with interlocks for rotary parts. Various tin sterilization and cleaning options are available from Nichrome.
Tins are used mainly in the food and pharma industry where barriers are extremely important. They provide safety, durability, and convenience. This makes them the preferred choice for packaging coffee powder, milk powder, baby formula, spice powders, nutritional supplements and more.
Can (or tin) sealers
A can (tin) sealer is a machine that seals the can lid to the can body in a way that is completely airtight. The lid of the can is usually made of tin-plated steel. The material for the body depends on the product being canned.
It can be made of metal, paperboard, or plastic. The can sealer interlocks the outer end of the lid with the top part of the can body. This process is called double seaming. The double seam creates a strong mechanical joint to seal the product inside the can. In addition to the mechanical interlocking, a sealing compound is attached to the curl of the lid. This makes the seal not only strong but also airtight.
Tin Packaging Machine Line
Tins for filling come in various formats like tin with sealing, tin with capping and composite tins. They are used to fill snacks, ready-to-eat food, liquids, powder, spice, coffee etc. Among the non-food applications, tins are packed with agrochemicals, adhesives, paints, wall putty, dyes & pigments etc. Metal is a preferred packaging material. Even as newer packaging materials are introduced each day, metal packaging retains its charm and utility.
Nichrome's Tin Packing Machine Line
Nichrome offers an efficient tin filling line system that helps you meet your packaging needs. Just change the filler to fill different products, and this innovative packaging solution will enable tin packaging in stock keeping units ranging from 100 gm to 1000 gm.
Whether it is milk powder, spice powders, seasoning powders & pharma powders or pulses, grains, sugar or tea, Nichrome's tin filling line guarantees high-speed, accurate filling. Nichrome's tin filling line system includes a turn table for empty tins, and an inverted tin cleaning machine.
The line system also features a UV chamber, dial indexing unit for twin tin filling, two servo auger fillers, seamer, date batch coding system, capping machine (lid pressing unit), cap elevator with storage silo and turn table for filled tins.
The Nichrome Edge
In a Nichrome tin filling machine, by changing the filler, one can pack a wide range of food and non-food products in tin or composite tin containers. Our line is especially geared for pharma powders and detergent powders.
Nichrome is India's leading provider of integrated packaging solutions offering a gamut of tin packaging machine use-cases, filling systems and turnkey projects for the dairy industry.
Stable and beautiful packaging can increase the value of milk powder to consumers by providing a sense of hygiene, nutrition, taste, and security. Nichrome milk powder packaging technology can be used to package milk powder and various other perishable food in tin cans.
Nichrome's tin filling and sealing line can be used for all sorts of liquid or viscous fluids. It comes with a servo gear pump, flow meter, piston, electronic weigh filler (EWF), multi-head weigher (MHW), cup filler and works at a filling range of 50 ml to 5,000 ml. It functions at a top speed of 100 cans a minute.
Secondary Packing
Nichrome can also help with secondary packaging solutions, and integration with existing systems. Secondary packaging is the first thing your customer sees when picking up your products and browsing retail shelves. Secondary packaging is any type of outer material that protects food, drink, and consumer goods throughout transit.
Secondary packaging lets your audience know more about your product and surrounds primary packaging to ensure products stay in pristine condition. Simply put, secondary packaging solutions are the repacking already packed products. Secondary packaging products help in maintaining quality and standard and keep count of the number of pouches and boxes.
Secondary packaging machines from Nichrome carton packing machine manufacturing plant are designed around three basic concepts: versatility, ergonomics, and optimised efficiency for a small footprint.
Conclusion
If you are on the lookout for a tin packaging machine, tin seamer machine, bottle filling machine, cartoning machine, bulk bag filling machine, box packing machine, flow wrap machine, ghee jar filling machine, manufacturers, snack packing machine, oil filling machine, shampoo packing machine, powder filling machine, sugar packaging machine– whatever may your requirements be, Nichrome has the capability and expertise to cater to your exact need.