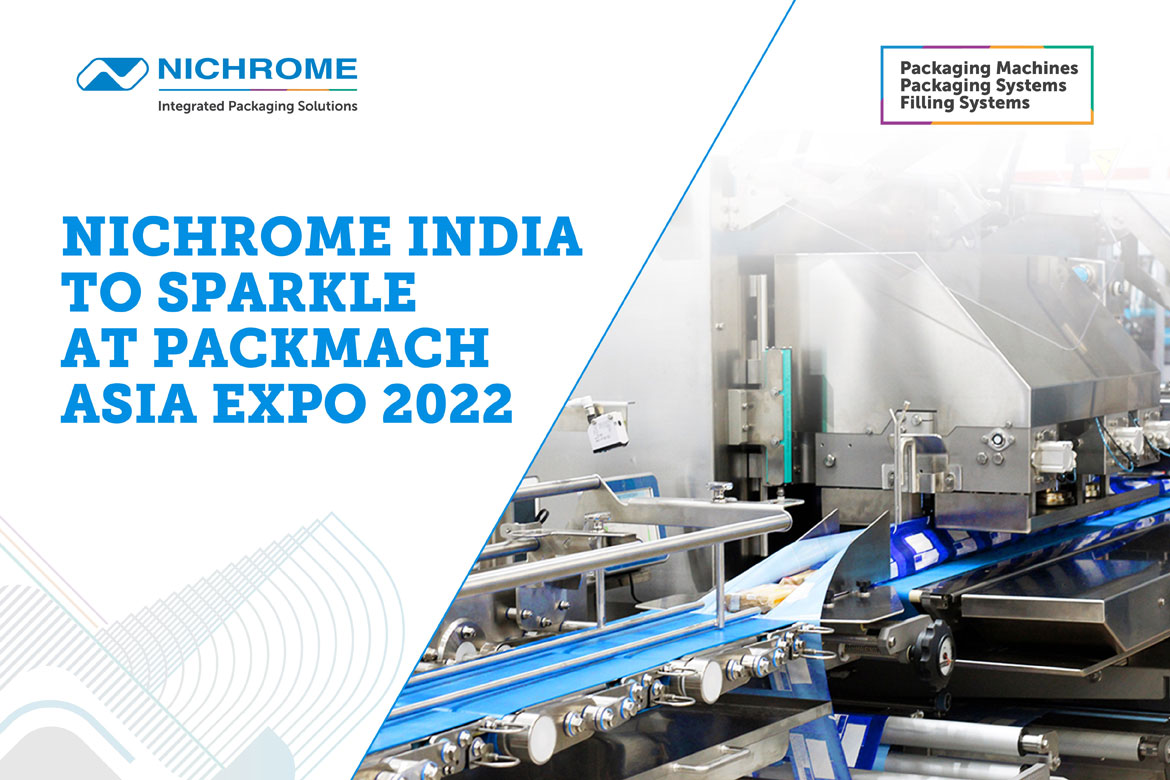 Nichrome India to sparkle at PackMach Asia Expo 2022
Asia's largest professional food technology and processing exhibition, PackMach Asia Expo 2022 is here!
And the world's leading integrated packaging solutions (IPS) provider, Nichrome India Limited is all set to participate in this mega event and showcase its cutting- edge innovations in the packaging domain here.
Nichrome India Limited will be a featured and popular participant in the expo that is on from December 07 to 09, 2022, at Bombay Exhibition Centre, Mumbai.
PackMach Asia Expo 2022
PackMach Asia Expo is an international trade event for processing and packaging jointly organized by the Institute of Packaging Machinery Manufacturers of India (IPMMI) and Messe Muenchen India. It is supported by PHD Chamber of Commerce (PHDCCI) which is the exhibition's Industry Partner.
PackMach Asia Expo (PMAE) will offer a robust futuristic platform for the packaging industry. The exhibition will showcase new-to-market products and technologies additionally hosting segments such as packaging, processing, logistics and supply chain.
Targeted at Food & Beverage, Confectionery & Bakery, Snacks, FMCG, Pharmaceutical, Cosmetics, Supply chain & Logistics professionals, the event will also offer lucrative opportunities for partnership, collaboration, technology transfer and knowledge sharing.
Nichrome's bespoke IPS range
A pioneer then and a leader now, Nichrome India trumps competition with its plethora of integrated packaging and filling systems for food, non-food, and pharma industry.
Nichrome's Vertical Form Fill Seal (VFFS) machines for solids, liquids, and viscous material are bespoke. Nichrome's VFFS multilane and Horizontal Form Fill Seal (HFFS) systems are the preferred choice in India and globally. Nichrome's Map Tray Sealing Machines are the talk of the industry.
Nichrome India is the leader in the manufacturing of jar filling machines, case packers, shrink wrapping machines, food package machines, pharmaceutical packaging machines, and integrated packaging solutions like auto case erectors, box packing machines, and secondary packaging machines.
Nichrome's Food Packaging Solutions
Nichrome is at the forefront of pathbreaking IPS technology with its multitude of food packaging products like the Snacks & Namkeen Packaging Machine, Ready-to-Eat Food Packaging Machine, Grains & Seeds Packaging Machine, Milk & liquids Packaging Machine, Powder Packaging Machine, Spice Packaging Machine, Coffee Packaging Machine, Sugar Packaging Machine, Oil Packaging Machine, Salt Packaging Machine, andTea Packaging Machine.
Nichrome's Tin Filling Solutions
Nichrome's tin filling machine line or tin packing line are robust, low-maintenance systems made for accurate and efficient performance. The programmable logic controller (PLC)-fitted lines feature a digital liquid crystal display (LCD) touchscreen with settings. They also have safety enclosures with interlocks for rotary parts. Various tin sterilization and cleaning options are available from Nichrome.
Nichrome's Pharma Solutions
Nichrome's pharmaceutical packaging machines are designed to achieve maximum efficiency and cost savings. Nichrome's cosmetic packaging machines are available for packaging several personal care products like hair gel, body lotion, shampoo, cream, liquid soap, toothpaste, hair wax and ointments.
Nichrome offers various solutions for granulation like High Shear Mixer for tablets & capsules. We offer an exhaustive portfolio of automated Fluid Bed Dryer (FBD), Tablet Compression Coating, Counting and Filling, Blister Packing, Bulk Packaging and Cartoning machines.
Nichrome's Non-Food Packaging Solutions
Nichrome's extensive range of non-food packaging solutions are awesome. We boast of an array of non-food machines for packing Agrochemicals, Fertilizer, Adhesives, Lube Oil, Varnishes, Coolants, Paint Powder, Hardware, Pet Foods, Cement &Wall Putty, Dyes and Pigments, Foundry, Flux and Inoculants.
Nichrome's Tin & Jar Filling Machines
Nichrome presents a versatile line of jar and tin filling packaging systems widely used to fill solids like tea, small biscuits, nutraceutical powders, health drinks and wrapped candies.
Nichrome integrated jar filling line is also popularly employed for packaging viscous material like ghee, peanut butter, mayonnaise, Chyawanaprash, powders, granules, candies and biscuits into bottles and jars.
We provide end-to-end solutions for all kind of bottle filling, foil sealing, capping, labelling and batch coding.These machines serve well for glass, HDPE and PP bottles and offer fast changeover for different jar sizes.
Nichrome's tin filling systems
Nichrome offers an efficient tin filling line system that helps you meet your packaging needs. Just change the filler to fill different products and this innovative packaging solution will enable tin packaging in stock keeping units ranging from 100 gm to 1000 gm.
Whether it is milk, spice, seasoning & pharma powders or pulses, grains, sugar or tea, Nichrome's tin filling line guarantees high-speed and accurate filling. Nichrome's tin filling line system includes a turn table for empty tins, and an inverted tin cleaning machine.
Why Nichrome?
For enterprises big and small, for applications existing and emerging, we offer infinite possibilities in integrated, automated packaging solutions. We partner with customers through the complete product lifecycle, offering application-specific solutions, backed by dependable service and support.Based in Pune, India, our sales & service network spans India and the world. We have presence in 45+ countries and more than 10000+ successful installations worldwide.
Conclusion
With automated Nichrome packaging solutions, you do not just get machines to do this. We handhold you through the entire operation from kick-off to completion. We believe in providing total turnkey automated secondary packaging solutions also that will meet your packaging requirements like a glove.