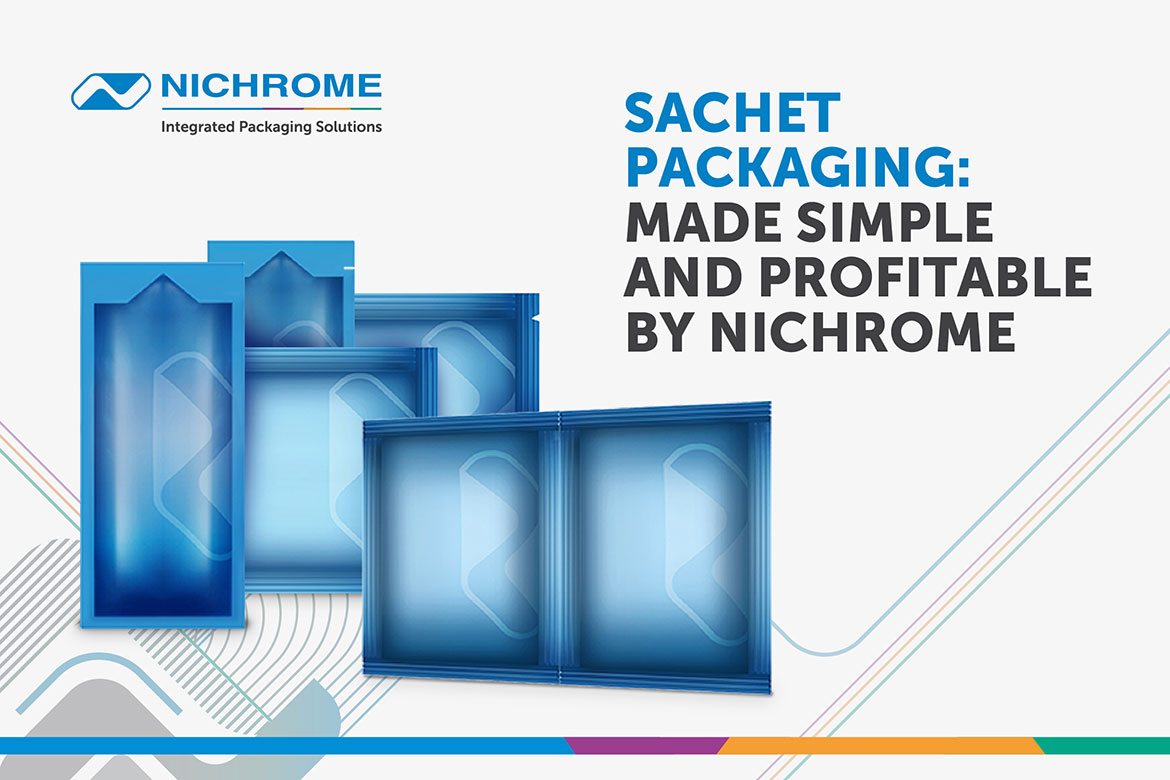 Sachet Packaging: Made Simple and Profitable by Nichrome
Sachet packaging is extensively used in the cosmetics & personal care, food & beverages, and pharmaceutical industries. Sachets are small, sealed, flexible pouches manufactured from paper, plastic, aluminium foil, cellulosic, etc. and contain products in liquid, powder or capsule form.
As they are cheaper than large size packets, sachets are generally used either for promotional trial packs or to cater to low-income or price-sensitive customers who prefer economical packs.
As per market reports, the Asia-Pacific region is expected to witness an increase in the use of sachet packing in a wide gamut of industries. Due to its low cost, recyclability, customizability and portability, sachet packaging is gaining immense traction across various end-users in the food & beverages, lubricants & solvents, pharmaceuticals, cosmetics and personal care industries.
Rapidly emerging trends such as 'single-serve/single-dose packaging' and 'buying less, more often' among customers for products such as shampoo, oil, tea, coffee, cream, and others are expected to create lucrative sales opportunities for market players.
NICHROME'S SACHET PACKAGING SOLUTIONS
Whether you require a shampoo packing machine, pharma powder sachet packing machine or sugar sachet packing machine, Nichrome offers innovative packaging solutions. Besides sachet packing machines for a wide range of applications across industries, Nichrome also offers advanced stickpack machines for contemporary requirements.
Nichrome's sachet filling and sealing machine portfolio includes:
PV-215
This high-speed, flexible, PLC-controlled sachet filling machine brings international multi-lane technology from Prodo-Pack, USA – a global leader in multilane technology – to India. For practically every application in Pharma, Personal Care, Cosmetics, Healthcare and Food industries, PV-215's intermittent motion technology ensures efficient sealing and a bagger speed of up to 1000 bags/min. These high speed, PLC-controlled machines are extremely flexible and can quickly accommodate any attachments/additional features at any stage due to their modular shaft-mounted concept. They also offer wrinkle-free sealing and user-friendly web tracking.
Pouch formats that these machines can work with include the 4 side seal sachet, 4 side seal with V notch, twin pouches, contour sachet and contour with V notch. The PV-215 sachet filling machine is suitable for sachet packaging of practically any food, non-food, pharma and cosmetic product.
Multilane Stickpack
This special VFFS packaging machine comes with different fillers for different applications. The Volumetric Multiple Cavity Filler is ideal for free-flowing powders and granular products such as sugar, salt, pepper, mouth freshener, etc.
The Multi-piston Filler is ideal for packaging liquids and viscous products such as honey, ketchup, mayonnaise, mustard paste, jam, shampoo, etc.; and the Multi-head Servo Auger Filler is consummate at filling non-free-flowing powders such as milk powder, coffee, tea/coffee premixes.
The Multilane Stickpack comes with a CE certified PLC controller that makes it easy to operate and provides the necessary flexibility for product and format changes while maintaining the efficiency of the process.
Easysnap
Nichrome also offers the Easysnap, a revolutionary innovation in single-serve packaging. The sachet has a worldwide patented opening system: fold it in half, with just one hand, to open and dispense the contents.
The machine offers 4 to 8 lanes, rapid conversion to various settings, and filling systems up to 25/30 ml.
CONCLUSION
Nichrome is the quintessential sachet packing machine provider if sachet packing is your desired packaging format. For more than four decades, Nichrome has built its expertise in packaging technology, and today boasts extensive industry and technology knowledge besides having a world-class design and manufacturing facility. As a leading packaging machine manufacturer, Nichrome partners with customers to customise solutions for specific application challenges. From designing the solution to the installation, commissioning, and training of the customer's staff in the operations and maintenance of the machine, Nichrome provides end-to-end support to its customers. Post-sales too, customers are assured prompt service and genuine spares through Nichrome's nationwide support network. This allows Nichrome to ensure the efficient working of the machines so their customers get the best productivity and performance from their setups and excellent Returns on Investment.

To know more about Nichrome's extensive portfolio of automated packaging machines, innovative filling systems and integrated packaging systems, visit www.nichrome.com