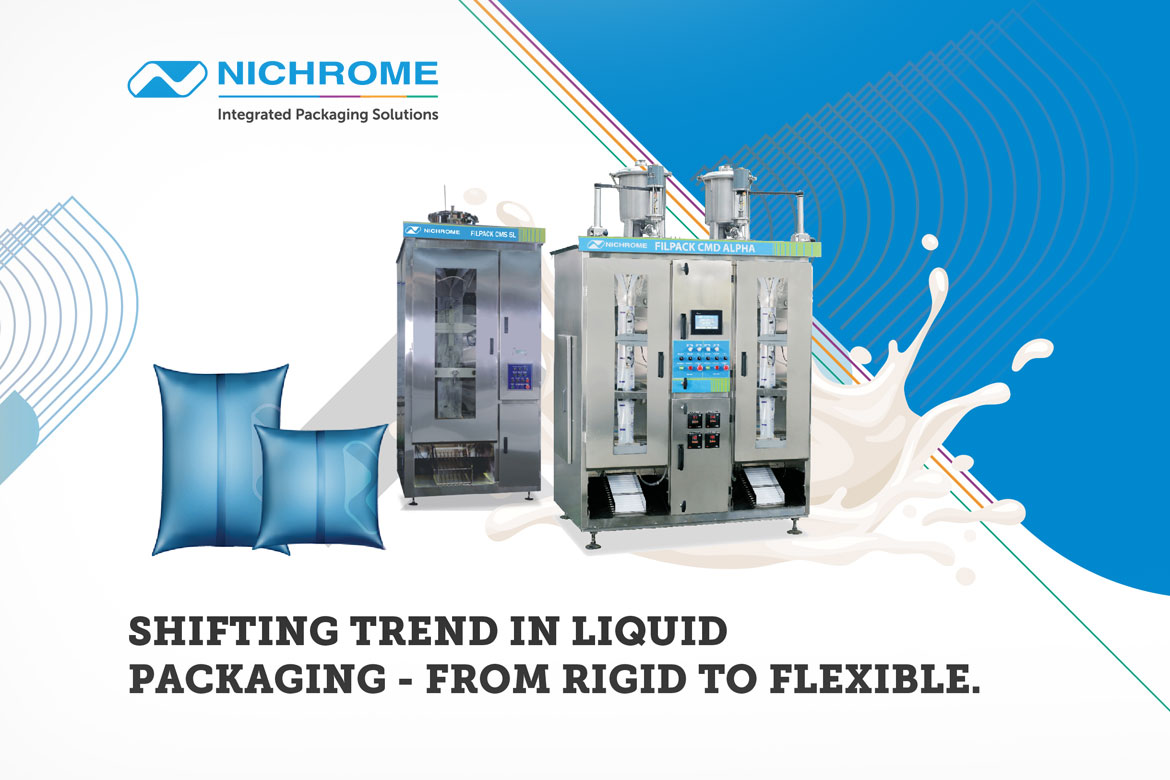 Shifting Trend In Liquid Packaging – From Rigid To Flexible
With changing trends in the packaging industry, it looks like rigid packaging for liquids is being overtaken by flexible packaging. While Centre Seal Pillow Pouches (CSPP) dominate the market, stand up pouches with spout are growing in popularity for the style, ease of usage and storage that they offer.
Any product of a runny consistency, be it water, milk, sauce, oil, juice or cleaning solution, needs strong and safe packaging that is light, clean and easy to use. Flexible packaging offers these and more advantages.
Why shift from rigid to flexible pouches?
There are many reasons to opt for flexible packaging:
lighter with better portability for consumers on the go
higher product to package ratio
uses 60% less plastic than traditional plastic bottles
requires approx. 50% less energy in production
more efficient warehousing
storage and transportation are cheaper and mess-free
Considerations before buying your liquid filling machine
If you're planning to automate your liquid packaging, or change from rigid bottle packaging to pouch, there are few basic points to discuss with your liquid filling machine manufacturer.
1. Viscosity: Viscosity is defined as a measure of a fluid's resistance to flow. A liquid with lower viscosity such as water or milk, flows easily while others like sauce, may not. Viscosity determines the type of filler used: it must induce flow with the right amount of force, yet ensure the packaging will not overfill.
2. Fill temperatures: This factor is also important when selecting a liquid filling machine, and more specifically, the product filler. When heated, most liquids flow more freely – so accurate fill temperature is essential.
3. Size of particulates, if any: Liquids like sauces, salad dressings, buttermilk, lassi, juice, etc. often contain particulates which are either suspended in the product or settle towards the bottom of the fluid. For such products, a clear understanding of the particulates, their size and properties is required to provide the optimal filler for the most accurate and free-flowing dispensing.
Nichrome offers a wide range of liquid packaging solutionsfor milk, water, juice, wine and other liquids. All the machines are designed for hygienic and accurate filling, built for reliable and efficient performance long-term. Here are some of Nichrome's proven performers, at a glance:
Filpack Servo 12K
fastest liquid pouch packaging machine – 12000 pouches/hr.
packs CSPP pouches of 200ml, 500ml, 1000ml
product contact parts of stainless steel for hygienic operations
UV film sterilisation system for packaging material
Filpack Servo Universal
high speed versatile machine
for both liquid and viscous applications
output speeds up to 5000 pouches/hr.
available in a double head combo filler model so you can fill viscous on one head and liquid on the other
built shorter and more compact
no side opening so occupies less floor space
impulse seal system controlled by solid state control
twin heads to pack two different products at the same time
for both liquid and viscous applications
pneumatic filling system for better consistency
liquids packed at 800 pouches/hr; viscous at 400 pouches/hr.
enclosed SS cabinet and SS 304 product contact parts
T-110, T-140, T-170
HFFS series with new gen linear technology
PLC based
compact design
duplex models for higher outputs
Conclusion
If you're thinking of shifting from rigid to flexible packagingfor your industry; if you want to market your liquid product in modern stand up pouches; if you want a liquid filling machine manufacturerwho will tailor to your specs – Nichrome is your one-stop source.
With four decades of experience in the packaging sector, over 7000 successful installations across 45 countries worldwide, and comprehensive design and engineering capabilities, Nichrome is well-equipped to provide the best liquid packing machinefor your application. In fact, Nichrome can deliver more than just the best liquid filling machine. Secondary packaging systems, upstream or downstream integration, training of your staff, maintenance support – Nichrome offers it all. No wonder Nichrome is the preferred provider of integrated packaging solutions for Indian industry, for years.