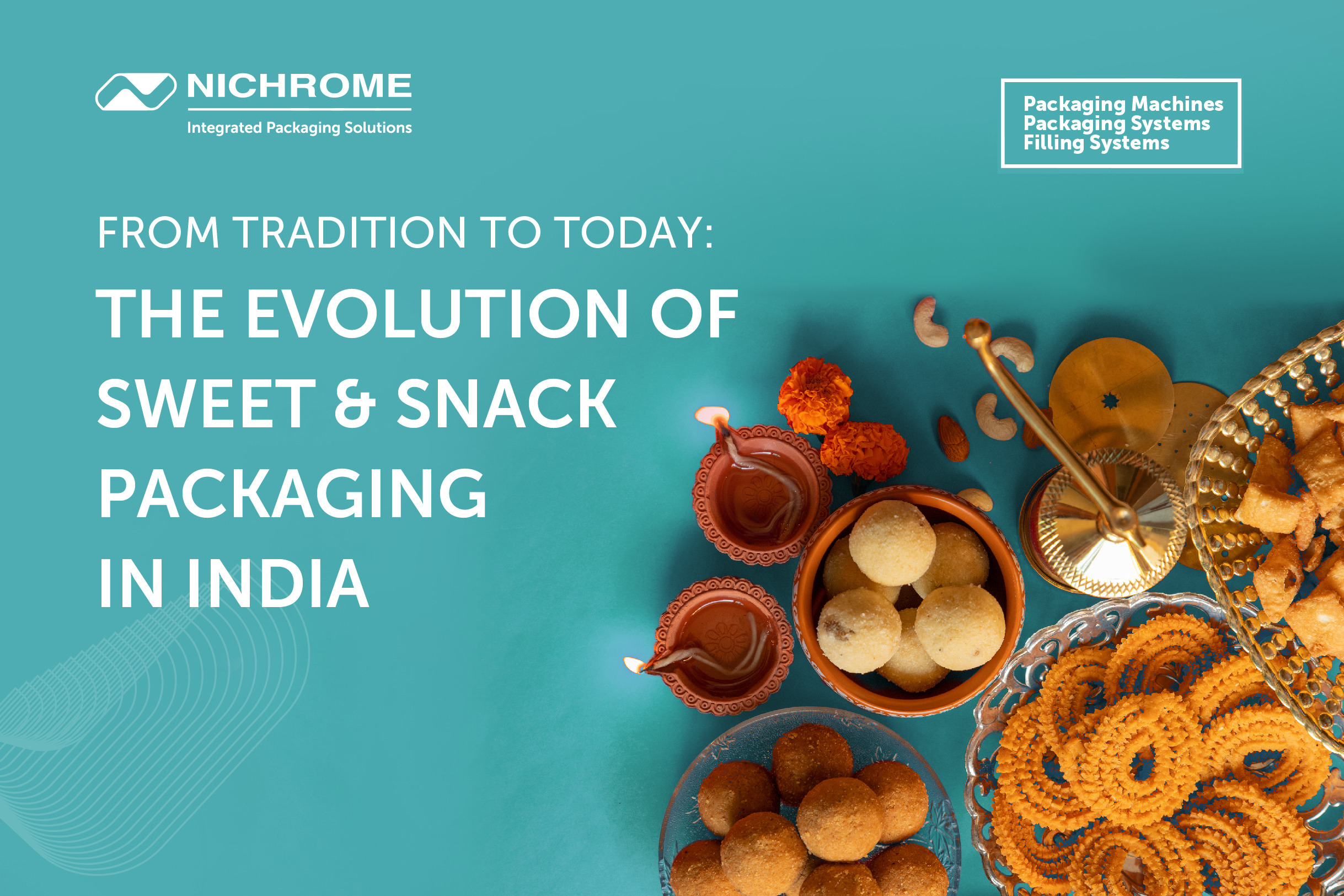 From Tradition to Today: The Evolution of Sweet & Snack Packaging in India
India's bond with snacks and sweets is priceless, and at the heart of this impeccable journey lies the evolution of packaging. From traditional to modern methods, the packaging of these products has experienced a fascinating transformation. In this blog, let us go on a ride through the evolution of sweet and snack packaging in India, and understand on how Nichrome plays a vital role as a leading packaging machine manufacturer and our integrated packaging solutions.
Traditional Packaging & Arrival of Modern Packaging Machines
Earlier, snacks & sweets were wrapped in handcrafted paper or packages. The charm of these traditional wrappers carried a certain nostalgia, connecting consumers to their cultural roots.
As India witnessed urbanization, modernization & industrialization, hygiene & efficient packaging became important. This was the advent of packaging machine manufacturers like us who introduced innovative & integrated packaging solutions. As pioneers in the field, we brought vertical form fill seal machines, horizontal form fills seal machines and automatic food packaging machines to the foreground.
Nichrome as your trusted sweet & snack packaging partner
In the vast & competitive sweet and snack industry, Nichrome stands out as a trusted name offering an end number of advantages that can uplift your packaging game. Let us know the best advantages you get when you partner with Nichrome:
Years of Expertise & Global Presence:
Nichrome proudly has over 75 years of experience in providing packaging solutions, making us one of the known names in the industry. With a global footprint in more than 45 countries, Nichrome delivers access to a wealth of international packaging expertise.
Innovative Packaging Machines & Integrated Solutions:
Our advanced packaging machines, including VFFS, automatic food packaging machines and sachet packaging machines are specially designed to meet the needs of the sweet and snack sector. Nichrome offers integrated packaging solutions that streamline your packaging process, enhancing efficiency and productivity.
Ensures Freshness in Every Packaging:
Nichrome's food packaging machines ensure the preservation of freshness and flavor. Nichrome's packaging solutions ensure that your products reach consumers completely fresh.
Wide Product & Pouch Range:
Nichrome's food packaging machines cater to a wide range of sweet and snack products, from Indian mithais to contemporary snacks, ensuring versatility for your packaging needs. These packaging machines also provide you with a variety of pouch formats to fill different quantities.
User-Friendly Operations:
As a leading packaging machine manufacturer, our machines are equipped with user-friendly operations. This makes our automatic packaging machines easy to operate, reducing labor cost as well as delivery at high output rate efficiently.
Best Aftermarket Support:
Our partnership with our customers is not just as a machine provider. We are more than that, we provide constant & promising after-sales support, including machine maintenance as well as training, to ensure the seamless operation of your innovative packaging solutions.
Packaging Machines by Nichrome for the sweet & snack industry
When it comes to snack packaging, Nichrome takes the lead with the Sprint Snackpack designed exclusively for the snack industry. This state-of-the-art food packaging machine is celebrated for its rapid and tool-less changeover of size parts, minimizing product falling height and ensuring efficiency.
The Sprint Snackpack is a versatile workhorse, capable of packaging a wide array of snacks and similar food products in various pouch formats including CSPP, Gusset with D-cut, and Gusset. What sets it apart is its perforation system, allowing it to produce a continuous chain of small pouches.
Excel Vertipack 320 is India's first vertical pouch packaging machine. It is a versatile innovative packaging machine from Nichrome, Excel Vertipack 320 is designed to pack dry fruits, sugar, candies, snacks, pasta, etc. in a wide range of standup pouches with or without zipper.
The machine has high-speed performance, robust design, online check weigher & metal detector, compatibility with multiple fillers, and a host of other features. Excel Vertipack 320 assures you optimum performance with unmatched versatility.
The transformation of sweet and snack packaging in India is evidence to India's rich tradition as well as adapting to the modern times. As a leading Packaging machine manufacturer, we have played a crucial role in this journey, offering integrated packaging solutions that blend tradition with innovation.