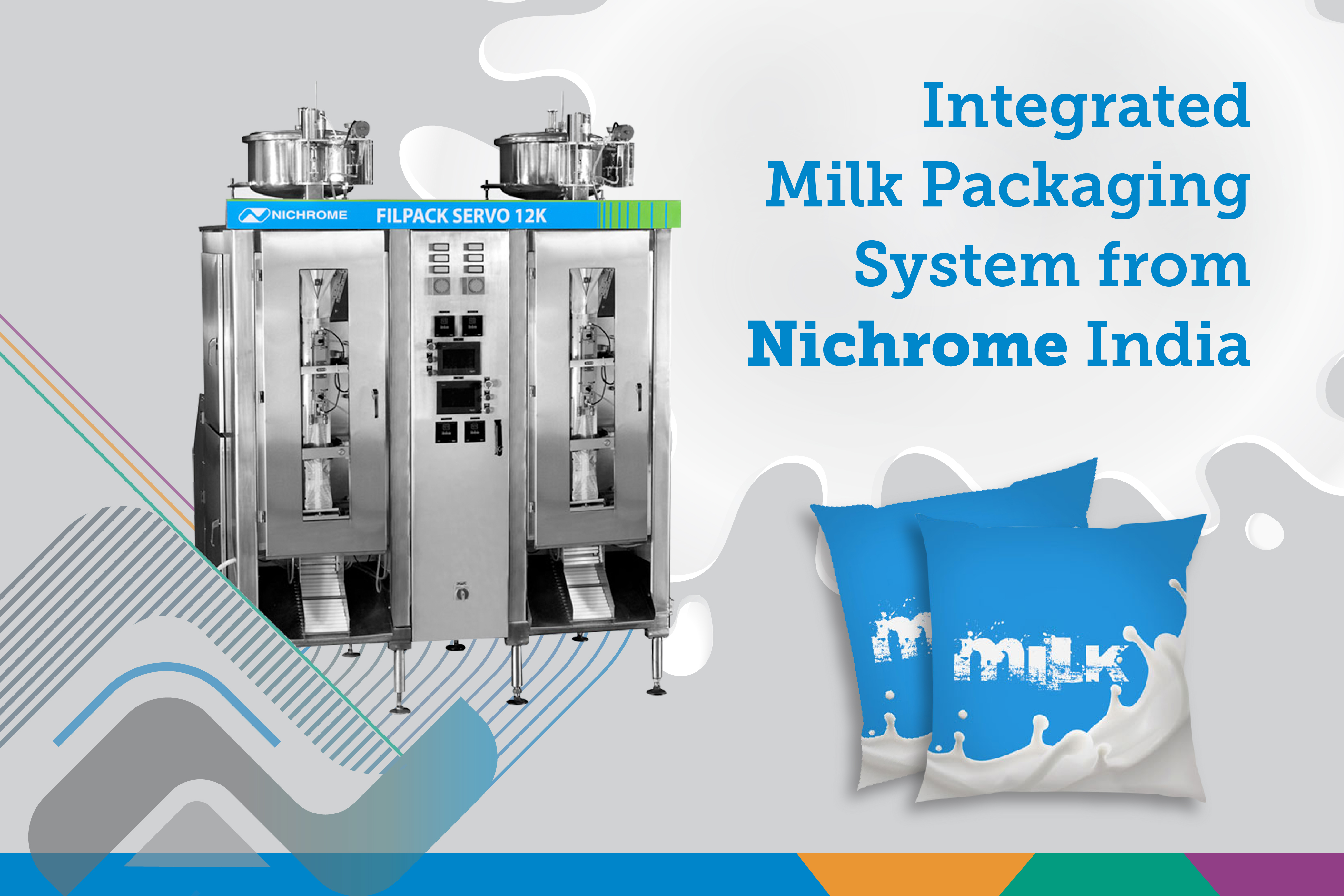 Integrated Milk Packaging System from Nichrome India
When it comes to milk packaging, the expertise and experience of Nichrome India is well known. It all started four decades ago when Nichrome designed and manufactured India's first indigenous milk pouch packaging machine, in response to the Government of India's call for affordable, indigenous packaging technology to support and enable India's White Revolution. The first Filpack machine was commissioned at Kurla Dairy, Mumbai where the commercial distribution of milk pouches was started on 7th March 1977.
Since then, Nichrome's capabilities and offerings for milk packaging have grown and developed with every passing decade. Today, Nichrome offers automated packaging machines and integrated packaging systems for a wide variety of dairy products including liquid (milk, buttermilk, flavoured milk), viscous (ghee, vanaspati, curd)and  powders (dairy whiteners, milk powder). Nichrome's dairy packaging machines and systems present certain common advantages such as compact, maintenance-friendly construction, high speed performance, requisite hygiene standards, and accurate filling and sealing.
Nichrome Milk Packaging System
Nichrome offers a trendsetting primary packaging + secondary packaging combo for the milk industry. It comprises Nichrome's Filpack Servo 12K and a Milk Pouch Crating System.
Filpack Servo 12K
This machine is the pride of Nichrome's milk packaging portfolio. It is the fastest milk pouch packaging machine, with a speed of 12,000 packs/hour.
Features of Filpack Servo 12K:
• CSPP pouches of co-extruded virgin LDPE in accurate quantities of 200 ml, 500 ml and 1000 ml
• Independent balance tanks offer flexibility to handle single or different products simultaneously
• Also packs flavoured milk, lassi, juice, mineral water and other free-flow liquids
• Spillage and wastage is minimal.
• Complete stainless steel structure, digital heat control system for maximum accuracy and a separate control panel box.
• Inbuilt jumbo roll and a web tracking attachment.
• Recipes can be set and quantity can be changed through the HMI alone!
• A remote control can be used for machine operation and machine automations can be remotely accessed through a modern 'Data Over Internet' feature.
• The installed insulated tanks maintain product temperature and minimize energy loss.
As flexible milk pouches are not self-supporting, they generally need secondary packaging. Also, as pouches are packed at high speeds by Nichrome's Filpack Servo 12K milk filling machine, lifting them manually in crates for transportation is not only slow, but could be inaccurate too.
Automatic Milk Pouch Crating System.
Nichrome's Automatic Milk Pouch Crating System offers a complementary secondary packaging solution to count & fill pouches in crates in synchronization with Nichrome's high speed Filpack Servo 12K machine. The entire process becomes systematic, automated and fast. It helps to maintain quality and food safety standard as well as keep count of the number of pouches and crates.
Advantages of Nichrome's Crating System:
• System can be customized as per customer layout and number of machines
• Total end of line solution from crate washing center to cold storage
• Fully automatic so reduces labour
• Provides hygienic and modern secondary packing process
• Improves productivity
• Independent of speed of machines / number of heads
• Independent of volume of pouches
• Each crate is filled with correct pouch count
• System has optional features of data logging and online crate weighing. The entire production data can be logged and saved on Cloud or central server system
• Optional Online Leak Detection Mechanism whereby each pouch from the conveyor passes through a pressing conveyor which removes excess air from the pouch through which the operator can easily differentiate leaky pouches.
Conclusion
So if you're looking for a seamlessly integrated milk packaging system that delivers efficient, trouble-free performance every day for years, contact Nichrome. Nichrome will study your operations, requirements, space and facilities, and customize the complete solution for you. So you get a primary packaging machine plus secondary packaging solution – integrated and tailored for optimization of space, performance and resources.
For more details about the milk packaging system, or other cutting-edge integrated packaging solutions, contact www.nichrome.com