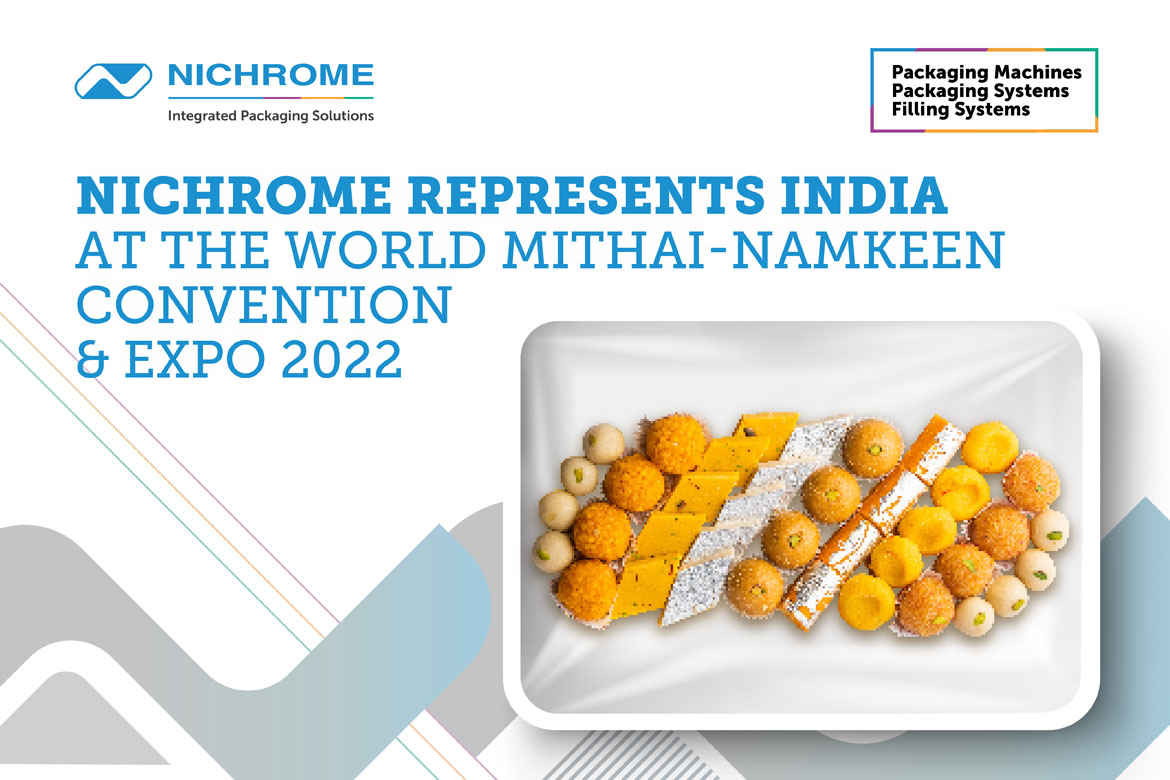 Nichrome Represents India at the World Mithai-Namkeen Convention & Expo 2022
Nichrome India Private Limited is counted among world's leading makers of integrated & automated packaging solutions for a whole range of use cases including food processing, non-food packaging and pharmaceuticals packing.
At Nichrome, innovation is a part of our DNA. Since our pioneering beginning in 1977, we have been endlessly innovating and upgrading offerings to solve packaging industry challenges and deliver greater business value to our customers with our next gen integrated packaging solutions.
Our innovation is founded on Expertise, Partnership, Forward-thinking and Technology. Supported and strengthened by these four pillars, we are perfectly poised to cross new frontiers in performance, accuracy, and solution development.
Nichrome India leads the pack in the packaging industry with innovative packing, sealing, filling and cartoning systems. Nichrome has a plethora of systems for product handling, primary & secondary packing, end-of-the-line packing, warehousing, and track & trace.
MAP Technology in Action
Nichrome's modified atmosphere packaging (MAP) for mithai and namkeen and food tray sealing machines are commendable. Nichrome is miles ahead of the competition in producing filling and sealing machines in India.
Thermoforming machines from Nichrome can also produce packaging with vacuum skins. The product is placed in a tray or a preformed packaging mould and is then sealed with skin film. This allows the safety of packaged products in a variety of shapes (as they were given a 'second skin'). The product is untouched by human hands, and the MAP sealing process ensures longer shelf life.
Whether you use MAP technology for mithai & namkeen packaging or dairy products – the contents are assured of hygiene and freshness. For SMEs in the Indian mithai & namkeen segment, MAP technology from Nichrome is a godsend.
MAP is a pathbreaking packaging solution for convenience and presentation of mithai, dry fruits, namkeen and confectionery. It is highly valued when packed in elegant trays and beautifully decorated outer cartons.
WMNC Expo 2022
World Mithai-Namkeen Convention & Expo 2022 (WMNC-2022) which is being held in Chandigarh from December 19-21, is expected to host over 300+ exhibitors and draw 25000+ visitors and delegates from across the country & overseas.
WMNC is the singular event where one can find all solutions related to the mithai & namkeen industry under one roof. From packaging automation machinery to packing materials, raw materials for ingredients, WMNC-2022 is the hottest place to go this year.
WMNC 2022 is a unique show for the entire traditional sweets and namkeen industry. It represents the Indian sweets & snacks Industry which is worth Rs 100,000 crore. WMNC 2022 will host seminars & workshops and conclude with an award ceremony for different categories.
Mithai & Namkeen Segment
Mithai & namkeen segment is at the nascent stage of branding and its true potential is yet to be explored. Mithai & namkeen manufacturers are slowly but surely realizing the need for better quality packaging that protects their products and offers protection during transportation (secondary packing).
Even smaller mithai-walas with local clientele are considering modern snack packaging machines to ensure the hygiene and shelf-life of their products. As the preference of consumers is shifting from the unorganized sector to the organized, brand and quality consciousness has shot up tremendously.
Accordingly, brands need to focus on ensuring that their primary, secondary, and tertiary packaging authentically reflects the quality of their mithai and namkeen products.
This is more applicable to the food sector, where buying decisions are often impulse based. Food processing giants like ITC and Parle are already giving foreign companies like Pepsi Foods intense competition.
Nichrome's MAP for Mithai & Namkeen
Modified Atmosphere Packaging (MAP) is a widely used technique for food preservation. MAP in tray sealing machines is gaining popularity as a method of preserving freshness and lengthening shelf life of fresh foods, fruits, vegetables, meat, and dairy products.
It is the preferred manner of preventing spoilage and extending the shelf life of mithai and namkeen products. MAP also helps shops sell Indian mithai and namkeen in stores located on highways where travellers stop for refreshments, and a multitude of other places within cities.
Nichrome's MAP and food tray packaging solutions are products to reckon with. They are deemed ideal for tray sealing and packaging mithai and namkeen products.
Nichrome's MAP food tray sealing packaging machine uses technology from Tecnovac, Italy and is the ideal choice for food tray and mithai and namkeen packaging.
This machine can seal, pack in a protective atmosphere (vacuum and gas) orwith "skin effect". Due to its strong stainless-steel structure and easy maintenance, it is ideal packaging for SME use.
For marketers of cut fruits & vegetables, meat & fish, namkeen & sweets and even ready-to-eat meals like biryani, Nichrome's MAP tech ensures that products are hygienic till they reach the consumer's table.
Conclusion
If you are looking for a thali packing machine, tray sealing machine, container sealing machine, nitrogen packing machine, or a food tray sealing machine with MAP technology – a.k.a controlled atmosphere packaging – for your fresh food and mithai and namkeen business, Nichrome is the ideal choice.

Nichrome India is the final word in packaging machines, automatic filling machine manufacturers, filling and sealing machine manufacturers and providers of integrated packaging solutions.