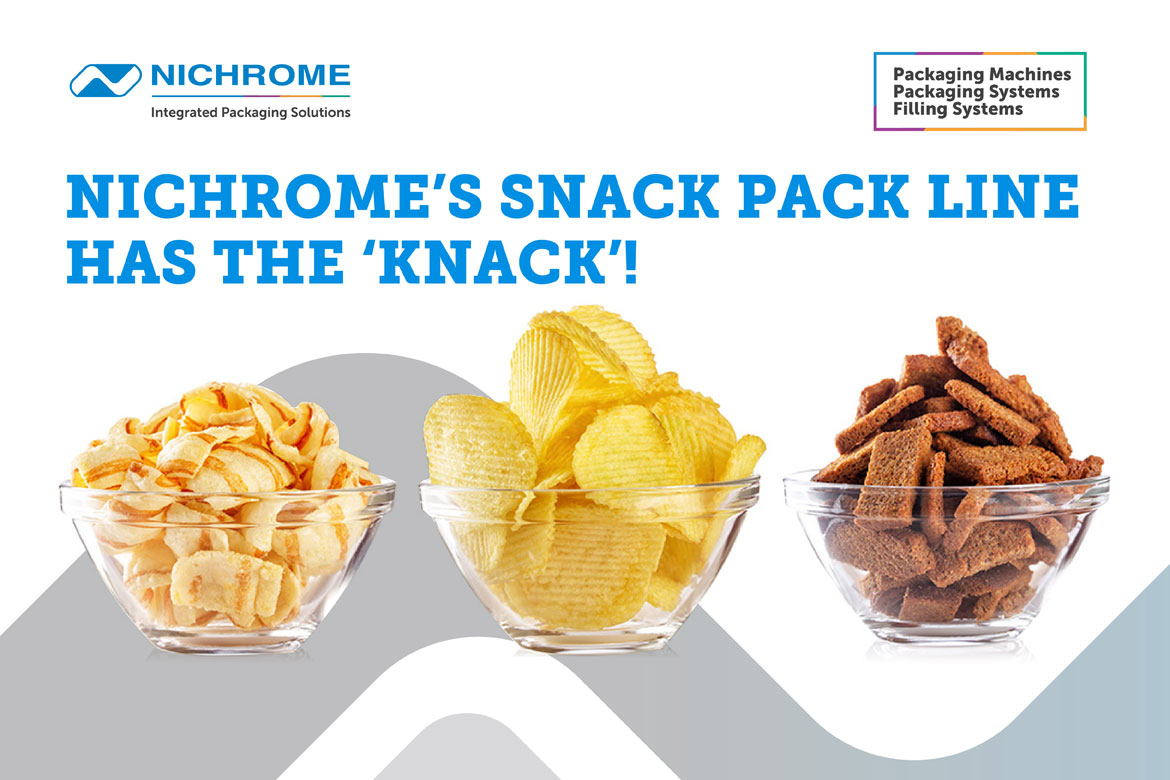 Nichrome's Snack Pack Line has The 'Knack'!
Nichrome India, a global leader in integrated and automated packaging solutions, is counted among the best in the world for its precision manufacturing, plethora of products for several use cases, and bespoke sales and service. The name Nichrome has become synonymous with integrated and automated packaging solutions especially in India and across the world.
For start-ups, SMEs or large MNCs; for current or emerging needs, Nichrome offers endless possibilities and value in packaging solutions. That too, with one-stop convenience. We partner with customers, studies their specific application, and offer integrated solutions that deliver cost savings and efficiency.
Nichrome Packaging Solutions
Think automated packaging machines, think Nichrome India. Nichrome offers a wide array of products for Multilane Vertical Form Fill Seal (VFFS), solid packaging, liquid packaging, viscous material packaging, Horizontal Form Fill Seal (HFFS) and tin & jar filling systems renowned for their performance and ease-of-use.
Nichrome India's integrated packaging solutions take packaging tech to the next level of capability because they are backed by extensive R&D and tailor-made design.
Nichrome's powder filling machine, tin filling machine, jar filling machine, can filling & sealing machine, carton packing machine, flow wrap machine and horizontal flow wrap machine are the preferred products in India and worldwide.
Nichrome's Tin Filling Line
Nichrome's tin filling line is a sturdy, low-maintenance system made for accurate performance and safety. The PLC-controlled line has a digital LCD touch screen displaying settings, and safety enclosures with interlocks for rotary parts. Tin sterilization and cleaning options are on offer.
Nichrome is a superior snack packaging machine manufacturer, focused on providing high quality packaging solutions ensuring that the freshness and quality of food products is maintained.
Nichrome's Snack & Namkeen Packaging Machine
Nichrome's SnackPack, is a food packaging machine that provides packaging solutions for a wide range of snack and namkeen products with dedicated design solutions for snack & namkeen packaging.
Nichrome's snack packing machines have applications in safely and aesthetically packaging Chips, Puffed Snacks, Dry Fruits, Wrapped Candies, Biscuits, Pasta, Breakfast Cereals, Potato Chips, Kurkure, Macaroni, Indian Namkeen, Nuts, Soya Chunks, High Counts Biscuits.
Nichrome's Wing-200 E-line Snack Pack, Excel Vertipack 320, Excel 400 Plus Multihead Weigher and Sprint 250 Plus Multihead Weigher are making industry buzz.
Nichrome Jar Filling Machines
Nichrome offers a wide range of liquid packaging machines – including bottle filling machines, oil tin filling machines, and ghee jar filling machines – that can be used to package diverse liquids.
Nichrome presents a versatile jar filling & packaging system which is widely used to fill solids like tea, small biscuits, nutraceutical powders, health drinks, wrapped candies, viscous fluids like ghee, peanut butter, and mayonnaise.
Nichrome's jar filling and sealing line can also be used to pack Chyawanprash, powders, granules, candies, and biscuits into bottles or jars. We provide end-to-end solutions for all kinds of bottle filling, foil sealing, capping, labelling and batch coding requirements.
Nichrome Wing 200 E-Line Snack Pack
The Wing 200 E-Line Snack Pack is an exclusive packaging solution for start-ups and SMEs. Nichrome Wing 200 E-Line Snack Pack demonstrates superior expertise and reliability of Nichrome, and is available in a compact, affordable format designed to fit your space and budget.
Nichrome Flow Wrap Machine (Flexiwrap 700)
In the Nichrome Flexiwrap 700, secondary CSPP Flow-wrapped pouches are formed for a wide range of lay flat widths, up to 700mm. It operates with manual product feeding into a specialized conveyor and does automatic flow wrapping.
The sterling features of the Nichrome Flow Wrap Machine (Flexiwrap 700) are intermittent motion, robust construction, quick change-over friendly design for use of different forming size parts and convenience.
Nichrome Horizontal Cartoner
Enjoy fast & efficient cartoning with Nichrome's Horizontal Cartoning Machine. This secondary packaging machine has a rated output of up to 180 cartons per minute and handles a variety of cartons with options of both side tuck-in, both side gluing or top tuck-in with bottom gluing.
Nichrome offers both continuous and intermittent fully automatic horizontal cartoners integrated with primary packaging. The main features are flexibility for size range and quick change-over, additional positive product inserter before flap closure (special for rigid products & pouches).
This Nichrome carton packaging machine also features unique and invaluable features like auto pre-folded leaflet insertion, machine guards with positive safety interlocks, sensors for monitoring carton and pouch, and speed up to 180 cartons per minute. It is the secondary and tertiary packaging solution of choice in India and markets abroad.
Conclusion
If integrated and automated packaging systems, is your ask; then give us the task! At Nichrome India, having developed India's first indigenous milk packaging machine in 1977, we have been at the forefront of cutting-edge packaging technologies. Nichrome is a brand trusted for its rich legacy of pioneering innovation, extensive domain knowledge and manufacturing competency in fully integrated packaging systems.
Our sales & service networking spans is based in Pune and is spread across all over the globe and India. Nichrome has a footprint in more than 45 countries and has successfully done 10000+ installations worldwide.