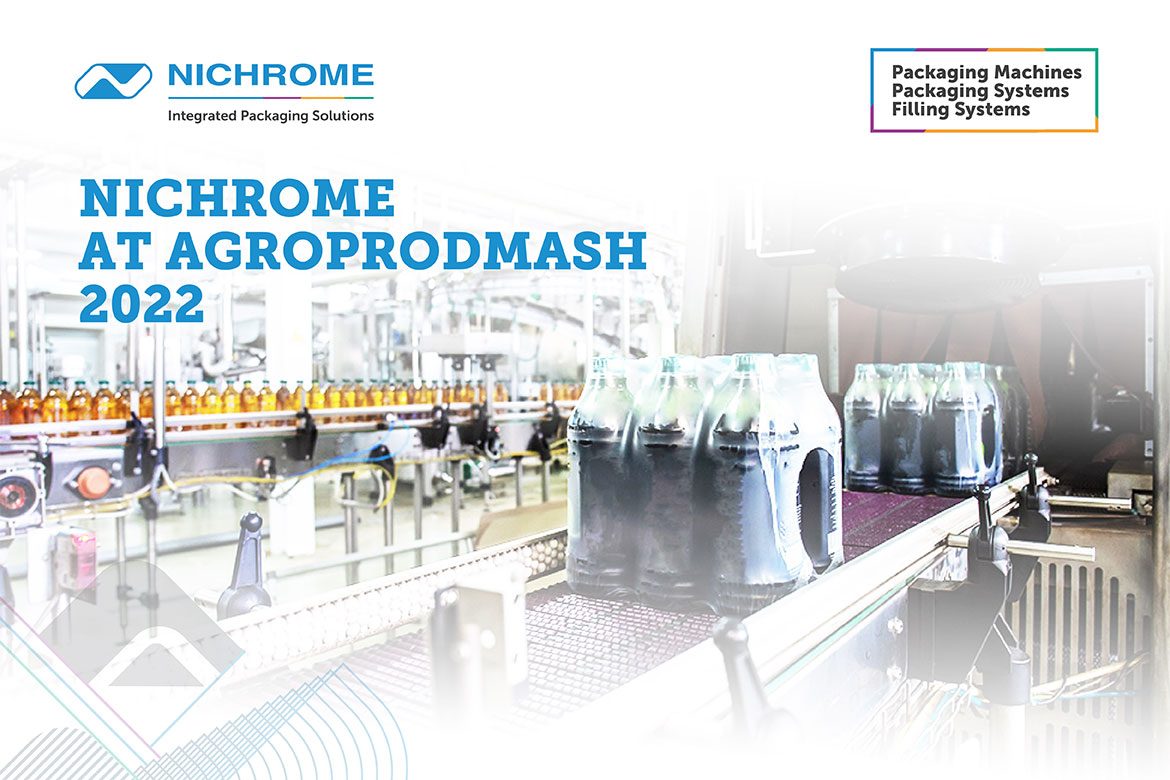 Nichrome at AGROPRODMASH 2022
About Nichrome India Ltd
Nichrome is one of India's foremost packaging machine manufacturers and offers integrated packaging solutions for a wide range of applications across the Food, Pharma and Non-food industries. With more than 4 decades of industry experience and bonafide expertise, over 10,000 successful installations and a presence in 45+ countries – Nichrome brings a product range and the capacity to deliver the ideal cost-effective solutions.
Nichrome has a custom of partnering with its customers to provide them with the ideal solution. Its expertise, technology, R&D and manufacturing chops allow Nichrome to provide the optimum customised solutions. Nichrome also provides training to their customers' employees on the operation of their packaging machines and promises swift service and maintenance support. With Nichrome as your packaging partner, you can be sure of surmounting your packaging problems!
Nichrome at AGROPRODMASH 2022
Nichrome is exhibiting at AGROPRODMASH 2022 – held in Moscow, Russia between 10-14 October. The 27th edition of the International Exhibition for Equipment, Technologies, Raw Materials and Ingredients for the Food Processing Industry – Agroprodmash 2022 – can be called a landmark and eminently anticipated event of the year for food manufacturers and food machinery companies.
Agroprodmash is a unique exhibition as it brings for its participants numerous benefits as it showcases equipment, technologies and services for the entire industry chain – from the production of raw materials and ingredients to the finished product, food packaging, quality control, refrigeration, storage and logistics solutions.
The expo consists of meetings for industry professionals that provide immense opportunities for finding the optimum solutions for sustaining and developing businesses in new environments, building order books, signing contracts, and entering new markets.
Types of Packaging Offered by Nichrome:
Primary Packaging
Primary packaging is defined as the packaging that comes in direct contact with the product and is the first level of protection for the product. The main objective of primary packaging is to contain, protect, and preserve the finished product – particularly against contamination. This kind of packaging is mainly intended for the end-user/consumer. Primary packaging makes it more convenient for consumers to handle the products whilst also making the product packaging more visually appealing. It can also display statutory information regarding the products that can be printed on the packaging.
Secondary Packaging
Secondary packaging is an extra layer of packaging for products that is applied after the primary packaging so as to bunch a certain number of products into a single SKU. The main role of secondary packaging is to provide protection to the products as they are carried through the supply chain. It also preserves the elements of the primary packaging.
Secondary packaging also makes it convenient to transport huge quantities of the packaged product from the manufacturer's setup to the end-user or point of sale.
Tertiary Packaging
Tertiary packaging is the final layer of packaging – used to protect the manufactured products during shipping or storage. Its purpose is not only the protection of the products but also the protection of their primary and secondary packaging.
Tertiary packaging is usually not visible to consumers as it is normally removed by retailers before the products are placed on shelves for sale. Some examples of tertiary packaging include brown cardboard boxes, wooden pallets, and shrink wraps.
Integrated Packaging Solutions from Nichrome
Packaging line efficiency in addition to the choice of packaging partner is a significant consideration for food manufacturers. Among the main requirements of these manufacturers is the capability of the packaging solution supplier to build and configure a completely integrated line – going from primary to secondary to tertiary packaging. The advantages of having such a packaging partner include single-source convenience, improved consonance between machines part of the line, and flexibility in the overall layout.
The objective of integrated packaging solutions providers like Nichrome is to provide entirely functional end-to-end packaging lines that have been set up according to their customers' particular requirements. The installation and commissioning of such an integrated packaging line simplify their customers' operations and save them time.
Nichrome offers highly proven expertise and single-source convenience – from product handling to the end of line solutions & warehousing for the provision of complete end-to-end packaging solutions.

Nichrome's primary packaging solutions are:
Jar filling line
Tin filling line
Bulk bag filling line
Blow Fill Seal (BFS) line
Nichrome also has the capacity to deliver secondary packaging solutions that can be integrated into the primary packaging for effective integrated packaging solutions:
Vertical cartoner
Horizontal cartoner
Case erector
Smart case packer
Auto case packer
Flexiwrap ST
Flexiwrap 700
HDPE bag filling
Flexibale 450
Pick and place solutions
Nichrome's range also includes end-of-line systems that can be integrated into the packaging line for highly effective end-to-end integrated packaging solutions.
Nichrome's end-to-end packaging systems can package both bags and cases and include bespoke solutions such as:
Automatic pallet dispensing
Collation using pick and place (Robotic/Gantry)
Palletizer (Robotic/Gantry)
Multiple line configuration and integration
Stretch wrapping
Conclusion
Whether you are making the decision to purchase a cartoning machine, automatic bottle filling machine, powder filling machine, tin packing machine, horizontal flow wrap machine, bulk bag filling machine, ghee jar filling machine, powder jar filling machine,milk packing machine,snack packaging machine– whatever your requirements, you should get in touch with Nichrome.
Make optimal use of the available space, and enhance efficiency and use of resources with Nichrome's customized primary, secondary and tertiary packaging solutions. With expertise that Nichrome has developed over the course of over 4 decades in the packaging industry, and demonstrated in more than 10,000 installations across 45 countries over the globe, Nichrome is your bonafide single-source partner for the most cost-effective and practical end-to-end integrated packaging solutions. Visit www.nichrome.com to find out more!