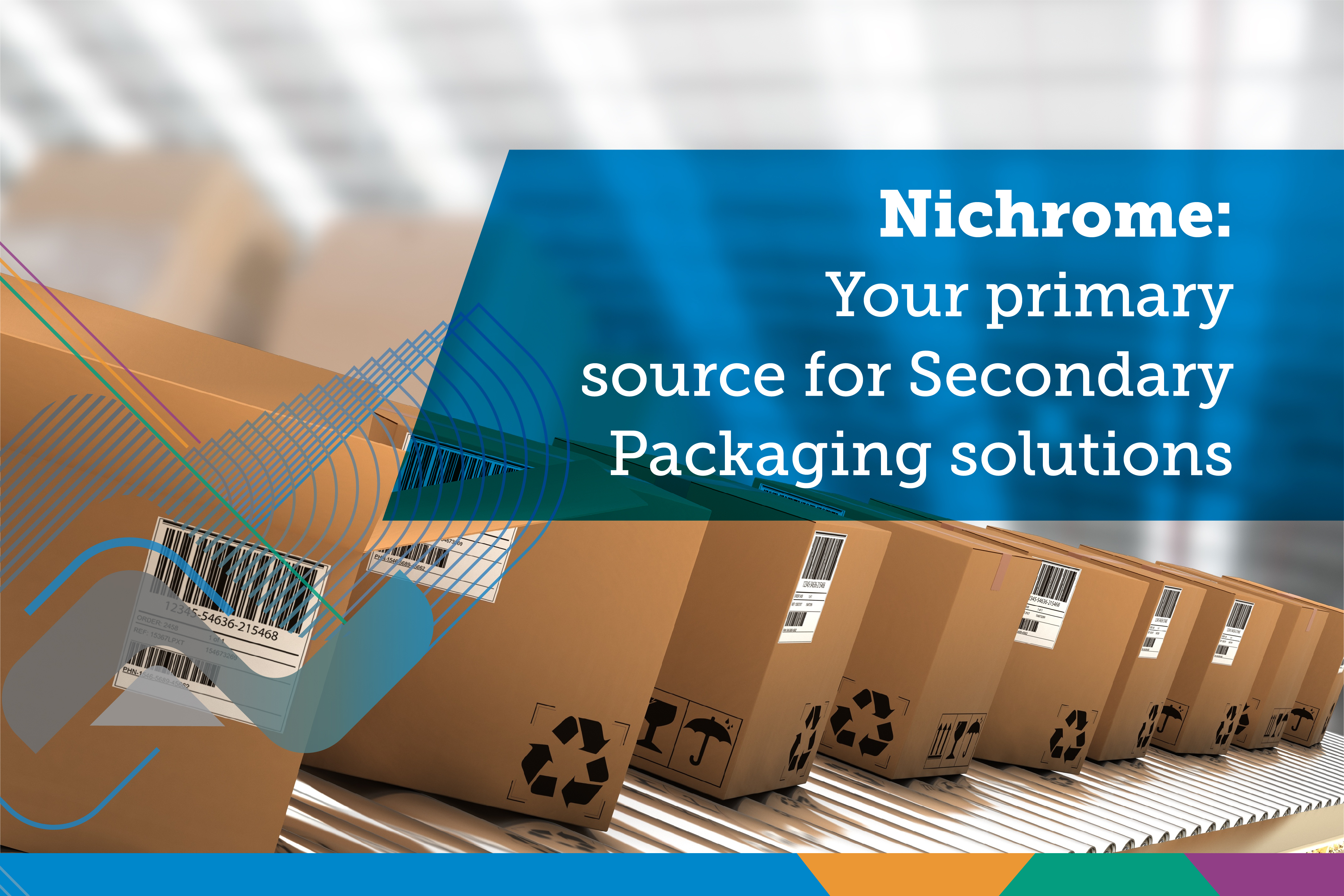 Nichrome: Your primary source for Secondary Packaging solutions
The primary role of Secondary Packaging is to protect products moving through the supply chain. It also preserves the integrity of the primary package. Secondary Packaging facilitates transportation of mass quantities of the packaged product from the manufacturer to the end user or point of sale. Quite often, it is not seen by the end user, so its attributes are more of utility than of aesthetics or marketing.
How Secondary Packaging helps
– Save time, space, labour, wastage
– Easy handling of transportation & Storage
– Overcome manual & disorderly packaging
– Ensure correctness of weight & pouch count
– Enhancing productivity
– One time investment with excellent ROI
– Can be used for branding and marketing information sometimes
Nichrome Secondary Packaging Solutions

Nichrome, India's leading integrated packaging solutions provider offers multiple Secondary Packaging solutions for diverse applications. Nichrome customizes these solutions as per the customer's needs, space and budget. They are then integrated with the primary packaging machines for a seamless fit.
Nichrome Secondary Packaging Solutions include:
Automatic Pouch Stacking & Wrapping System
Nichrome's high speed Stacking & Wrapping System for single and double head machines enables auto pouch stacking as per desired matrix. The system includes an inclined conveyor, pouch orienter, pusher and flow wrapping machine.
It is a PLC-controlled, single operator driven system offering easy changeover. The system can be aligned in linear or right angle direction as per floor space.
HDPE Bag Filling System
This is a PLC-controlled system with digital LCD touch screen for display and settings. The user-friendly design and fast changeover for different bag sizes makes this a must-have for companies packaging their products in pack sizes of 500 to 5000 gms.
The line includes a VFFS machine, pouch take up conveyor and a rotary bag holding & filling system. Machine construction is available in SS304, SS316 and MS painted. Both HDPE and PP bags may be used.
Cartoning Machine
Discover fast and efficient Cartoning with Nichrome's Cartoning Machine. This secondary packaging machine has a rated output of 50-55 cartons per minute, and handles a variety of cartons: parallel tuck in, opposite tuck in, lock bottom and gluing.
The machine structure is of MS sheet metal for durability. Some key features include adjustable carton conveyor with chain type design, servo indexing drive to carton and product chain, motorized carton pick up with vacuum cups, and facility for product insertion inside carton through motor-driven product pusher.
Flexibale 450 Baling Solution
Nichrome Flexibale 450 is an innovative secondary packaging system to pack pre-counted numbers of primary pouches in economical bulk secondary pouch aiming to replace existing packing methods which are labor intensive and less efficient.
The Flexibale 450 is designed to be directly coupled with primary vertical form fill and seal machine enabling a single operator to manage a complete packaging station from automatic primary packaging to finished balers.
Automatic Milk Pouch Crating System
The Automatic Milk Pouch Crating System offers a solution to count & fill pouches in crates in synchronization with high speed Filpack Servo 12K machines. The system can be customized as per customer layout and number of machines, provides total end of line solution from crate washing center to cold storage, and helps to maintain quality and food safety standard as well as keep count of the number of pouches and crates.
The system also offers an optional Online Leak Detection Mechanism whereby each pouch from the pouch take up conveyor passes through a pressing conveyor which removes excess air from leakage pouch through which the operator can easily differentiate leaky pouches.
Conclusion
Optimize space, efficiency and resources with Nichrome's customised, automated Secondary & Tertiary Packaging solutions. With expertise built up over 4 decades in packaging, and proven across 7000+ installations in more than 45 countries worldwide, Nichrome is your go-to single-source partner for the most efficient integrated packaging solutions, end-to-end.